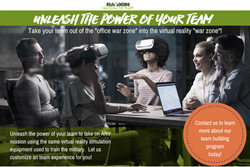 PORT ORANGE, Fla. (PRWEB) May 24, 2018
Take your team out of the "office war zone" into a virtual reality "war zone". Unleash the power of your team to take on any mission using the same virtual reality experiences used in military training.
It takes teamwork for your company to accomplish its corporate mission, an no one is better at developing teams than the U.S. Military.
Raydon has 30 years of experience helping the military build team synergy with virtual reality training solutions. Bring us your team, take them away from their familiar battles, and we'll immerse them in a virtual reality training experience where success is only possible with communication and coordinated teamwork.
Raydon's Corporate Team Building program places business people in a virtual environment, with new rules, new roles and familiar teammates. We immerse them in an environment that breaks down old patterns of behavior and establishes new and more effective ways to communicate and collaborate. The urgency and extreme consequences of a dangerous military mission make it impossible to cling to the status quo.
We utilize a high-end, military-style VR experience that is fun and challenging. Every participant is empowered to impact the outcome of the operation. Challenge your team to rally around a military mission and solve fast-paced tactical problems on the fly. We provide a facilitator who will not only setup the VR systems but also teach basic combat tactics and equipment operation. No one will forget the first time they feel the recoil on the big M2 machine gun replica.
For a free consultation on how to build the best team building experience, go to: http://info.raydon.com/team-building