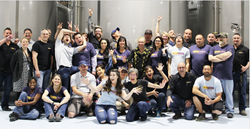 "as a 100% woman-owned business, we felt WBENC Certification was fitting, for it serves not only to inspire others but also bolster the burgeoning community of women-owned businesses, currently 174 strong in Arizona and 1566 across our region!"
COTTONWOOD, Ariz. (PRWEB) May 24, 2018
Wild Tonic®, a 100% women owned brewery specializing in palate-pleasing Jun Kombucha of unparalleled sophistication, integrity, and grace, is proud to announce that they have received their national certification as a Women's Business Enterprise, by the Women's Business Enterprise Council West, a regional certifying partner of the Women's Business Enterprise National Council (WBENC).
Jun Kombucha innovator and entrepreneur Holly Lyman glowingly reported "as a 100% woman-owned business, we felt WBENC Certification was fitting, for it serves not only to inspire others but also bolster the burgeoning community of women-owned businesses, currently 174 strong in Arizona and 1566 across our region!"
WBENC's national standard of certification implemented by the Women's Business Enterprise Council West is a meticulous process including an in-depth review of the business and site inspection. The certification process is designed to confirm the business is at least 51% owned, operated and controlled by a woman or women.
By including women-owned businesses among their suppliers, corporations and government agencies demonstrate their commitment to fostering diversity and the continued development of their supplier diversity programs.
About Wild Tonic:
Wild Tonic® Jun Kombucha is an innovative craft brew! Fermented with honey and brewed with certified organic fruit, herbs and botanicals, Wild Tonic® is available in non-alcoholic and 5.6% ABV versions. Wild Tonic® has become both a leader and disruptor in the beverage industry. Holly Lyman's passion for art and innovation is galvanizing the forces behind the brand and its success. In addition, Wild Tonic® is made up of diverse, passionate people who have helped forge an amazing culture. To learn more about WILD TONIC, please visit http://www.wildtonic.com.
About WBENC:
Founded in 1997, WBENC is the nation's leader in women's business development and the leading third-party certifier of businesses owned and operated by women, with more than 13,000 certified Women's Business Enterprises, 14 national Regional Partner Organizations, and over 300 Corporate Members. More than 1,000 corporations representing America's most prestigious brands as well as many states, cities, and other entities accept WBENC Certification. For more information, visit http://www.wbenc.org.