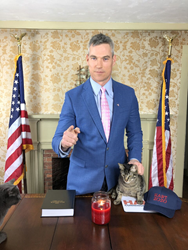 In a United States with a Hart Cunningham government, the American people would have their voice heard at the polling stations.
COLUMBUS, Ohio (PRWEB) May 31, 2018
The American people have seen time and time again that an outdated voting process determines their president. During the last election cycle, presidential candidate Hillary Clinton won the popular vote by 3 million, though she still lost to Donald Trump in the electoral college.
One 2020 presidential candidate would change that. Citing the more than frustrating reality that, under our current electoral college, "millions of votes… are sometimes not even represented if their state loses," presidential candidate Hart Cunningham stated his campaign's support for a 2017 constitutional amendment introduced to the House of Representatives.
Support for Abolishing the Electoral College
Cunningham is far from alone in his wish to abolish the electoral college. Former presidential nominee Hillary Clinton has twice called for phasing out the outdated system: once after her 2016 electoral college loss, and before that in 2000 after Al Gore shared a similar fate in a loss to George W. Bush.
In addition to notable politicians opposing the electoral college, the American people have regularly expressed their discontent with the system. In a recent online petition, over 700,000 Americans expressed their desire to deliver a message to the president requesting a long-needed change to this status quo.
Election Reform for the 21st Century
While the electoral college "may have been a relatively ideal way to elect the leader of the nation in the 1700s, this is no longer the case," s tates the Cunningham campaign. Instead, Cunningham wishes to empower American voters, whom he sees as capable of wisely exercising their right to a vote "of equal weight in electing the future chief executive of our country."
That should be no surprise from a candidate who routinely gives the people access to his own platform, empowering them to share their views and wishes. In a United States with a Hart Cunningham government, the American people would have their voice heard at the polling stations.
About Hart Cunningham - #Hart2020
Hart Cunningham is running for the presidency in 2020 in the hopes of helping the world overcome struggles due to capitalism, unsustainable economic and environmental practices, and a lack of equality. After being a successful businessman for many years, Cunningham turned his attention to humanitarian work and to bringing awareness to these issues. Originally from the south, he's made his roots in California and has a deep understanding of democratic and republican politics and ideals. True to his name, Hart Cunningham wants to bring the heart back into politics in America and believes that poverty and climate change must be solved for the greater good of our world. Volunteer or contribute to his campaign by visiting, http://hart2020.org.
Follow Hart Cunningham on Social Media
Twitter: https://www.twitter.com/HCfor2020
Facebook: https://www.facebook.com/HartCunningham2020