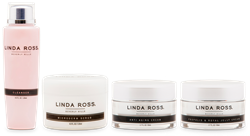 HALF MOON BAY, Calif. (PRWEB) May 23, 2018
Guests of The Ritz-Carlton, Half Moon Bay – the San Francisco Bay Area's premier luxury resort – can now experience a touch of Beverly Hills glamour with the Rodeo Facial, the latest addition to the resort's bespoke Secret Spa Menu. The ultra-luxe treatment was created exclusively for the resort by Linda Ross, one of the most sought-after skincare specialists in Beverly Hills. Ms. Ross' beauty products are handcrafted in micro-batches, using premium ingredients designed to transform skin back to a youthful glow.
The Rodeo Facial begins with a gentle cleansing foam, followed by a microdermabrasion scrub that reveals softer, luminescent skin and enhances absorption of beauty products. A protein and vitamin-rich skin tightening mask is then applied, stimulating blood flow to the surface of the skin and encouraging cell regeneration. In addition to containing organic essential oils that enhance elasticity, the Nobel Prize-winning ingredient, Epidermal Growth Factor, is featured in the anti-aging cream applied next. The cream stimulates skin cells' metabolism and its ability to rejuvenate and heal at a rapid rate. A propolis and royal jelly cream, adopted by the Ancient Egyptians for its curative and nutritional properties, caps off the luxurious experience to promote healing and deter aging.
With a fresh, radiant complexion mirroring Half Moon Bay's famous golden sunsets, guests can luxuriate in the award-winning Ritz-Carlton Spa facility, which features a co-ed whirlpool with a fireplace and ladies' and gentlemen's saunas and steam rooms, or cozy up with a glass of local wine around the fire pits on Ocean Terrace while taking in breathtaking views of the Pacific.
Ms. Ross' skincare line is also available for purchase for a limited time at the spa boutique for those wishing to continue the star treatment at home.
The Rodeo Facial is available on The Ritz-Carlton, Half Moon Bay's Secret Spa Menu for $350 (80 minutes), exclusive of tax and gratuity. The menu is carefully curated and ever-changing, with sample treatments such as the Diamond Facial, Tatcha Rituals of Japan, and Matanzas Creek Lavender Escape.
For additional information and to place a spa reservation, please contact Leisure Services at (650) 712-7000. For more information about the resort, please visit http://www.ritzcarlton.com/en/hotels/california/half-moon-bay.
###
About The Ritz-Carlton, Half Moon Bay
Set atop a rugged bluff overlooking 50 miles of pristine California coastline, The Ritz-Carlton, Half Moon Bay is a 261-room spa and golf resort offering a relaxing and romantic setting. As the San Francisco Bay Area's only oceanfront resort, the timeless estate provides guests with a relaxed yet refined experience for a romantic getaway. For more information, please contact The Ritz-Carlton, Half Moon Bay at 650-712-7000. For room reservations, contact your travel professional, visit ritzcarlton.com/HMB or call Ritz-Carlton worldwide reservations at 800-241-3333.
Photos available upon request.