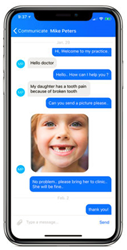 "We understand the importance of helping every practice succeed as a business and, with that in mind, we are employing state-of-the-art technology that can turn a provider's smartphone into an extension of his or her practice."- Vijay Sikka, CEO of Sikka Software
SAN JOSE, Calif. (PRWEB) May 23, 2018
One of the newest Practice Mobilizer features allows dentists to access patient records quickly and securely, no matter where they are. Whether they are at the movies, a sporting event or a family dinner, when an emergency call comes in, this free app lets dentists easily ascertain that the caller is indeed one of their patients and help him or her out of pain.
Practice Mobilizer is a free app that also offers additional key features to assist retail healthcare professionals, including dentists, veterinarians, optometrists, and others, in reaching their goals.
Among the other features available on the Practice Mobilizer app is a fee comparison tool that allows professionals to compare fees being charged in their practice with similar practices in their zip code with free and premium fee optimization and survey schedules.
Additionally, providers and team members can determine the impact that internal and external factors have on their business through Sikka Software's Artificial Intelligence (AI) utility and ChatBots. This allows practices to monitor performance and costs and make sure the business is performing as expected.
Also, Practice Mobilizer provides practitioners and team members with patient estimated arrival times based on driving directions and traffic flow, allowing for an increased number of appointments scheduled while maintaining a high standard of care. Data includes patients who will arrive early, as well as late, facilitating scheduling and maximizing revenue-producing patient visits. Patients and clients download the free secure companion app, which supports the video, picture and text communication, to enable schedule alerts.
"We continually work to ensure Practice Mobilizer is meeting the needs of today's retail healthcare business," said Vijay Sikka, Chief Executive Officer of Sikka Software. "We understand the importance of helping every practice succeed as a business and, with that in mind, we are employing state-of-the-art technology that can turn a provider's smartphone into an extension of his or her practice."
As we get closer to the middle of the calendar year, now is a great time for practices to see exactly how their business is faring in 2018.
One thing that separates successful businesses from those that are struggling is knowing your numbers and knowing benchmarks to compare previous months, quarters or years to their current business climate. With Sikka Software's Practice Mobilizer, practices have the ability to easily gauge how their business is doing compared to previous years.
Providers can access features by downloading the free Practice Mobilizer app to their Apple or Android smartphone. The app connects to 96 percent of Practice Management Systems on the market and is secure.
Five things you can do with Practice Mobilizer
1. Send procedure videos, messages, and pictures using Sikka Software's secure messenger. With telehealth becoming more and more of an option for practices and patients, this is a great way to practices to retain more of its patients.
2. With an estimation tool, see just how close your estimates are to your actual production levels. Are you really making what you think you're making?
3. See precisely if and when your patients will arrive, allowing you to adapt and adjust your schedule with real-time arrival updates.
4. Compare fees with similar practices in your zip code with free and premium fee optimization and survey schedules.
5. From Sikka Software's best-in-class partner Marketplace, optimize your practice and maximize your profits.
For more information, visit http://www.practicemobilizer.com or download Practice Mobilizer directly to your smartphone for free from the Apple App or Google Play store.
About Sikka Software
Sikka Software Corporation is revolutionizing the retail healthcare industry via its platform cloud, analytical tools, apps and big data leadership. The Sikka Platform Cloud allows seamless compatibility with over 96% of practice management systems in the United States for dentists, veterinarians, optometrists, chiropractors, orthodontists, oral surgeons, audiologists and other retail healthcare professionals. Sikka Software Corporation has over 29,300 installations and is experiencing strong growth and market presence in the retail healthcare big data space. For more information, please visit http://www.sikkasoft.com.