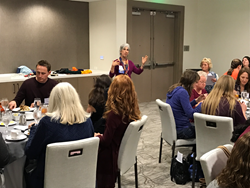 The focus of this year's Parent Workshop is SPD: How It Affects the Child, the Parent and the World Around Them.
DENVER (PRWEB) May 29, 2018
STAR Institute for SPD announces the addition of Carol Stock Kranowitz to the roster of speakers at the 2018 Pre-Symposium Parent Workshop. The workshop is designed to educate parents, teachers and the community on ways to better understand and improve the lives of children and families living with Sensory Processing Disorder (SPD). This year the workshop is scheduled for October 11th in Atlanta, Georgia, one day before the STAR Institute's 21st International 3S Symposium.
Kranowitz is an active board member with STAR Institute and is well-known among parents and professionals who treat individuals with sensory processing challenges. This year her presentation will offer sensible suggestions to help parents and others who care for children with SPD. Topics will include coping with meltdowns, building on children's self-therapy, and maintaining a sensory lifestyle while at the playground, grocery store, doctor's office and other potentially daunting locations or events.
The focus of this year's Parent Workshop is SPD: How It Affects the Child, the Parent and the World Around Them. In addition to Carol Kranowitz, attendees will hear from local experts in the field of SPD including Caroline Clark, MHS, OTR/L, Bryson Green, MS, OTR/L, CPAM and Jorri Sanders-Marchi, M.Ed. CCC-SLP. STAR Institute has teamed up with local partner Building Bridges Therapy to design a workshop that speaks to the local community's needs and wants. Topics covered in the workshop will include the child's sense of self, peer relationships, and strategies to carry-over therapeutic gains in the home and community. Participants will expand their understanding and resources with small group discussions, parent-to-parent networking and a panel Q & A.
"Carol is an incredibly valuable member of the STAR Institute family, and we're thrilled to have her presenting again this year," said Virginia Spielmann, MSOT, Associate Director of STAR Institute. Kranowitz is author of numerous books about sensory processing challenges, including The Out-of-Sync Child which has sold about one million copies to date. Her interest in SPD began during her 25-year career as a movement and drama teacher. During her time as a teacher, Carol noticed many young children who were "out-of-sync," so she started learning more about sensory processing and sensory integration (SI) theory. She learned to help identify her young students' needs and to steer them into early intervention. She also hosts workshops, where she educates parents, teachers, and other professionals on how to support young child with sensory disorders.
About STAR Institute for Sensory Processing Disorder:
STAR Institute for Sensory Processing Disorder, a Colorado 501(c)(3), is the world leader in treatment, research, and education for Sensory Processing Disorder, a neurological condition that disrupts the daily lives of more than 4 million Americans. STAR Institute is the premier treatment center for children, adults and families living with Sensory Processing Disorder, feeding disorders, and other sensory conditions associated with ADHD, autism, and other developmental disorders. Dr. Lucy Jane Miller, founder of STAR Institute, is widely recognized as the leader in Sensory Processing Disorder research worldwide. For more information about the Greenwood Village, Colorado clinic, visit http://www.spdSTAR.org or call 303-221-7827.