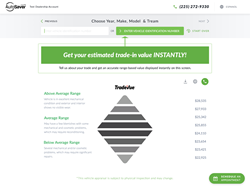 TradeVue has been a hidden gem in the automotive community for many months but now it's gaining attention due to its exceptional conversion-to-show rates
JACKSONVILLE, Fla. (PRWEB) May 23, 2018
With the latest release – v2.5 – TradeVue is moving forward to improve performance and offer even greater ease to both auto dealers and consumers. The new version includes a brand new UX design and proprietary pricing algorithms which improve accuracy.
"We have never been more excited about a product release," states E-Drive CEO, Derek White. "TradeVue has been a hidden gem in the automotive community for many months, but now it's gaining attention due to its exceptional conversion-to-show rates. We are delivering unprecedented ROI through a sticky design and a clever value-added call-to-action on dealer websites."
Updates such as an ultra-responsive mobile-first design and the advanced integration offered to CDK dealers make TradeVue an incredible bargain at less than $500 per month.
About E-Drive Autos
Based in Jacksonville, Florida, E-Drive Autos was founded in 2011 by Derek White, the original founder of real estate data giant, RealtyTrac. The company provides patent-pending conversion technologies, a blockchain-driven trade-in marketplace, and digital marketing products that are used by many top dealer groups across the country.