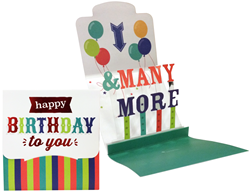 KANSAS CITY, Mo. (PRWEB) May 23, 2018
The Greeting Card Association (GCA) announced the winners of its 2018 "LOUIE Awards," the International Greeting Card Awards Competition, in New York City on May 20th. Gift Card Impressions (GCI) was a finalist in 4 categories, winning a Louie Award in 2 of those categories, Birthday and Valentine's Day. GCI's award winning products serve a dual purpose with an ability to also wrap a traditional gift card in a warmer, more innovative way.
Nearly 200 companies submitted thousands of entries in 56 categories in this year's competition. "To receive two Louie Awards from the Greeting Card Association, when up against members like Hallmark and American Greetings is truly an honor" said Dominique O'Hara, SVP of Creative for GCI.
About Gift Card Impressions:
GCI is a gift card industry leader providing engagement and gifting solutions to leading retailers, Gift Card Brands and leading corporations. The company has received 42 industry awards for innovation in the last 7 years with an extensive patent portfolio in the US and worldwide. The company's leading-edge insight research allows the company to understand how to provide revolutionary communication and gifting solutions that enhance engagement and create more meaningful and shareable experiences for consumers and businesses.
Visit GiftCardImpressions.com for more information, Gift-Tokens.com to see the technology in action and Thegiftcardshop.com for other gift card delivery ideas.