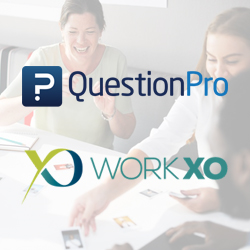 We feel strongly that culture should and will be at the heart of the next wave of workforce technology.
CHICAGO (PRWEB) June 06, 2018
The workplace culture management tech company WorkXO has now become a wholly owned subsidiary of QuestionPro.
QuestionPro provides survey technology, market research and customer experience (CX) solutions to more than 2.5 million users. Workforce, its suite of workforce analytics solutions, includes a 360 degree feedback tool, pulse surveys, and other tools to measure organizational health.
WorkXO, founded in 2015, created a revolutionary model for measuring workplace culture, a powerful proprietary technology for analyzing it, and a proven methodology for ensuring organizations get and stay intentional about managing it. Clients like T-Mobile, Cisco, NBC Universal, Security First Bank, and Southern Dental Alliance use WorkXO's first-of-its-kind culture management platform - Workplace Genome® - to turn workplace culture into competitive advantage.
Since inception, the WorkXO platform has been integrated with QuestionPro's survey technology. WorkXO founder Charlie Judy says the acquisition is a perfect fit. "We've been impressed with QuestionPro and their vision for survey-based business intelligence all along. We're excited to partner with an organization that's committed to developing data-rich workforce solutions that drive action and results.
"We see tremendous opportunity in the next generation of people analytics, and we feel strongly that culture should and will be at the heart of the next wave of workforce technology," says QuestionPro CEO and founder Vivek Bhaskaran. "The WorkXO team has developed and perfected a people-science around culture that is revolutionary. This, coupled with our scale of information capture from employees makes us the only global culture-analytics platform in the market today. I'm excited and honored to work with Charlie and his team to scale WorkXO to the broader market."
WorkXO will be the centerpiece of the evolving QuestionPro Workforce product line, with Judy serving as president. "Organizations increasingly recognize the power of intentionally managing their cultures, and I am thrilled to have the opportunity to develop a more robust and comprehensive suite of people analytics tools to do just that," Judy says. "This collaboration will give us the ability to create enhanced functionality, invest in a more dynamic product and go even deeper in developing our powerful algorithms. We strongly believe this partnership will bring tremendous value to our customers from day one."
The deal closed April 30, 2018, on undisclosed terms.
Learn more about WorkXO and the Workplace Genome®.
Learn more about the acquisition and Workforce employee engagement platform by QuestionPro.
WorkXO is a technology company committed to improving work by understanding cultures. WorkXO's culture-management platform, the Workplace Genome®, measures and analyzes an organization's culture, uncovers the distinct priorities for heightening success, and guides leaders to taking meaningful action.
QuestionPro is a leading provider of online survey and insights solutions software with over 2.5 million users worldwide. Insights includes tools for creation, distribution, and analysis of surveys, as well as platforms for polling, mobile research, and data visualization. For over 13 years, QuestionPro has provided reliable technology to organizations including Fortune 100 companies to individual researchers.
Contact:
Esther lavielle, esther.lavielle(at)questionpro.com, (206) 850-0557