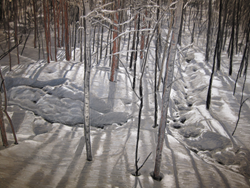 ROCKY RIVER, Ohio (PRWEB) July 02, 2018
Continuing the string of exhibitions earlier in the year, Linda's work "Footsteps #16" was accepted into The American Artists Professional League's "Celebrating the Spirit of America Show", an online exhibition. Her painting went on to win the "Light/Shadow Award", an award recognizing her mastery of light and shadow used in the painting.
For Linda's first international exhibition of the year, her three works "Footsteps #5", "Treehaven #1", and "Snowtracks #1" have all been accepted into Pastel en Périgord's 2018 International Pastel Show. The exhibition will take place in Saint-Aulaye, France, from July 28th - August 26th.
Finishing the quarter strong, Linda's "Footsteps #12" has been awarded the "Cheap Joe's Art Stuff Award" at the Hudson Valley Art Association's Annual Exhibition on June 16, 2018.