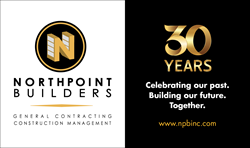 "The word 'builder' in our name is significant to me, and in my mind describes our passion for constructing buildings, as well as for building relationships. It is the people relationships I have had over the years with my coworkers and our clients that have been nothing short of incredible."
BALTIMORE (PRWEB) May 23, 2018
North Point Builders, a leader in the construction management, design/build, and commercial general contracting arena, is proud to announce the celebration of its 30th anniversary.In an industry often beleaguered by economic concerns and shrinking profit margins, longevity is rare,yet Baltimore-based NPB has continued to grow and thrive. Under the watchful eye of founder and President Ken Wingate, the company's dedication to excellence and commitment to service has allowed it to maintain a leadership position in the region for three decades amid a fiercely competitive industry landscape.
Wingate founded NPB in 1988 with a $500 investment and a vision for creating a construction company dedicated to delivering superior quality and service. By coupling that vision with decades of hard work and determination, NPB has evolved into a $50 million dollar company providing a full range of general contracting, construction management, and design/build services to the education, healthcare, government, commercial, historical, non-profit, sustainable design, office, and retail markets. With a wealth of expertise in solving complex construction challenges, NPB has become a respected name across these industry sectors. Over the years, the company has completed numerous multi-million, multi-phased projects on time and on budget, and is poised to begin a new $30 million project in its 30th year of operation. Often lauded for its superior craftsmanship, NPB has led the construction efforts for many high-profile projects, including:

The Gary J. Arthur Community Center (Howard County's first sustainable building)
The Towson Fire Station No. 1
Maryland Food Bank's headquarters; the Anne Arundel Urology Medical Center in Annapolis;
Under Amour Suite at Byrd Stadium at the University of Maryland, College Park.
People have always been central to NPB's success. The company prides itself on fostering long-lasting relationships and providing valuable services with a professional, reliable and qualified team. NPB attracts and retains skilled, experienced employees who are committed to the values that have propelled the organization to the industry forefront for three decades. Says Wingate, "I am blessed to have so many folks help us reach this milestone. I am truly thankful and humbled by the efforts of so many to support our cause to create 'something from nothing' on a regular basis. The word 'builder' in our name is significant to me, and in my mind describes our passion for constructing buildings, as well as for building relationships. It is the people relationships I have had over the years with my coworkers and our clients that have been nothing short of incredible."
About North Point Builders: Founded in 1988, North Point Builders is a Maryland-based full-service construction firm offering a diverse range of services, including pre-construction consulting, construction management, design/build, and commercial contracting. The company's projects range from new construction and renovation of government facilities to hospitals, medical centers, K-12 schools, universities, churches, community centers, and more. NPB takes great pride in delivering superior craftsmanship and service, and in knowing that its projects often serve as the heart of the communities in which they are based. For more information about North Point Builders, please visit the website at http://www.npbinc.com or call 410.477.8541