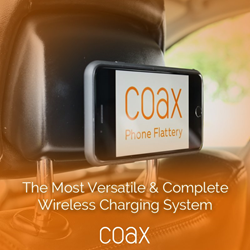 "I created this product for all of those "Bad Luck" situations you find yourself in, when you need your phone the most and yet the battery is dead or dying. Whether is a business meeting, or needing the GPS for directions, this is the all-in-one wireless charging solution that solves the problem".
NEW YORK (PRWEB) May 23, 2018
The perfect partnership embodies success. That's why the creators of the Coax Wireless Charging System brought on Funded Today to reach a wider audience with its crowdfunding campaign on Kickstarter. The common goal for both parties is to secure more pledges and successfully fund the wireless charging system for different models of iPhones.
Funded Today has been featured in articles written by TechCrunch, Gizmag, CNET.com, The Huffington Post, Digital Trends, and Mashable. It helps crowdfunding campaigns maximize pledges through high impact video and page design, strategic marketing, and conference-style online learning opportunities. A new product like Coax needed leverage and given Funded Today's success rate with clients such as Trunkster, BetterBack, and Free Wavz, the move benefitted both parties.
The Coax Wireless Charging System improves upon existing technology by making it faster and easier to wirelessly charge mobile phones while on the go. With mobile phone usage continuously on the rise each year, it made sense to the company to come up with a product that fulfilled a void in the industry. Although wireless charging units are available from different brands, few work together seamlessly like the Coax.
About the Coax Wireless Charging System
Equipped with special features, the three pieces that make up a Coax include the charging base, impulse power bank and protective case, and mounts that allow people to use the system in the car, home or office. Each component can be used independently or together as a complete system depending on a user's needs and preferences.
There are multiple features that make a Coax stand out from the competition. The first is the system's case. Built to protect iPhones from cosmetic and electronic damage, it offers security for its users by keeping their devices safe. Next, there is the complementary battery that keeps mobile phones charged and ready-to-use at any given time.
Wireless charging capabilities and a choice of mounts that fit different environments make it easy to have a fully charged phone without the need for cables. The case itself does the charging, so cells stay put until their batteries are full. An Auto DC USB Port and Cord allow the case to keep its charge.
Upon successful funding, the campaign is scheduled to close, and all backers rewarded with the new Coax system being shipped to their homes or businesses by August 2018. Interested parties wanting a new and revolutionary way to charge their iPhones can pledge to purchase one unit for $85 USD. Additional information about the campaign can be acquired by visiting the COAX Kickstarter Campaign.
Media Contact: Briana Bragg
Coax Wireless Charging System
Email:briana(at)businessbragger.com
Phone Number:561-504-3600