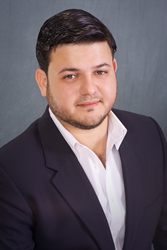 "It was crucial for me to find other individuals who have my same mindset and my same goals. People who take the business as seriously as I do. It's what MIAMI YPN is all about." --- MIAMI YPN Chairman Jorge H. Fernandez
MIAMI (PRWEB) May 22, 2018
The MIAMI Association of REALTORS® (MIAMI) is pleased to announce Miami native Jorge H. Fernandez as the 2018 chairman of the MIAMI Young Professionals Network (MIAMI YPN). Fernandez and the 2018 YPN Board were installed at MIAMI's 2018 Inaugural and Awards Celebration.
MIAMI's YPN Council is a dynamic group of young professionals dedicated to supporting the growth and professionalism of the South Florida real estate community. It's a group that won the Young Professional Network of the Year from the National Association of REALTORS® (NAR) in 2017 for its efforts in promoting professional collaboration through social and community involvement.
"When I first got into this business, I looked for a sense of belonging. A sense of 'Hey, I'm not in this by myself,'" Fernandez said. "It was crucial for me to find other individuals who have my same mindset and my same goals. People who take the business as seriously as I do. It's what MIAMI YPN is all about."
Fernandez is a broker at Caribe Homes Realty in Miami. He attended Florida International University in Miami and Florida State University in Tallahassee.
The son of Cuban immigrants, Fernandez earned his real estate license in October 2010.
Under the tutelage of Caribe Homes Realty Principal and 2013 MIAMI Association of REALTORS® (MIAMI) Residential President Fernando Martinez, Fernandez has developed into a top Realtor. Fernandez quickly became Caribe Homes Realty's top sales agent which gave him the credibility to become the company's broker of record.
After years as a MIAMI YPN leader, Fernandez was elected as chairman. MIAMI YPN started as a group of 15 young professionals in 2010 and has now blossomed to more than 1,300 members. The MIAMI YPN Leadership Board oversees three different chapters in Miami-Dade, Broward and Palm Beach counties.
MIAMI completed almost 20 projects in 2017, and has already participated in several community service projects in 2018. In February 2018, MIAMI Realtors and MIAMI YPN hosted a Better Block celebration to launch the new MKTPlace, which featured a new bright and colorful mural, at Goombay Plaza in Coconut Grove. In April 2018, MIAMI YPN helped plant 2,000 dune plants to restore our natural coastline at Virginia Key North Point Park.
To learn more about MIAMI YPN, visit http://www.MiamiRealtors.com/ypn
Announcing the 2018 MIAMI Young Professionals Network Leadership Board
Joining Fernandez are: Vice Chair Wesley Ulloa, CLHMS of LUXE Properties; 2017 Chairman Alberto Carrillo of RelatedISG International Realty; Broward Chapter Chair Cassandra Gallego, EPRO, TRC of Coldwell Banker Residential Real Estate; JTHS-MIAMI Chapter Chair Jennifer Daversa, GREEN of PB Real Estate; Broward Chapter Vice Chair Jeff C. Corriolan of The Keyes Company; Madelyn Andrade of The Keyes Company; Lissette Avila of Real Estate Sales Force, Inc.; Banna Fakhoury of Regatta Real Estate Management Inc.; Paola M. Garcia-Carrillo, CLHMS, CIPS of Residence Realty Inc.; Daniel Golik of Keller Williams Realty Inc.; Fernando J. Grulion, CRS of LUXE Properties; Raul Labarca of Coldwell Banker Residential Real Estate; Marissa Levine of Levine Realty Inc.; Bethany Martinez of Related ISG; Neal Oates Jr., CIPS, CLHMS of World Renowned Real Estate; Peter Ortega of Keller Williams Miami Beach; Sean Person of EWM Realty International; Carolina Perciado, SFR of PPG Potential Property Group; Megan Probst of Compass Florida, LLC; Julie Sidorevskaya, BPOR of Julie's Realty; David Silverman of Douglas Elliman Real Estate; Albert Vasquez, ABR, SRS of Keller Williams Realty SW Partners.
Kevin Puricelli is the director of creative services and Executive for YPN. Teresa King Kinney is the Chief Executive Officer for the MIAMI Association of REALTORS®.
About the MIAMI Association of REALTORS®
The MIAMI Association of REALTORS® was chartered by the National Association of Realtors in 1920 and is celebrating 98 years of service to Realtors, the buying and selling public, and the communities in South Florida. Comprised of six organizations, the Residential Association, the Realtors Commercial Alliance, the Broward Council, the Jupiter Tequesta Hobe Sound (JTHS-MIAMI) Council, the Young Professionals Network (YPN) Council and the award-winning International Council, it represents more than 47,000 real estate professionals in all aspects of real estate sales, marketing, and brokerage. It is the largest local Realtor association in the U.S., and has official partnerships with 178 international organizations worldwide. MIAMI's official website is http://www.MiamiRealtors.com