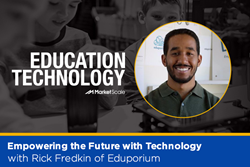 "Sometimes when people think of education with technology or computing, they think teaching the computer as opposed to the opportunity to teach the exact same things that have always been taught, but with a new tool.." – Rick Fredkin
WATERTOWN, Mass. (PRWEB) May 29, 2018
Founder and CEO of Eduporium, Rick Fredkin, recently appeared on the MarketScale Education Technology podcast to discuss his thoughts on the rapid advancement of technology as an educational tool. His conversation with host Sean Heath was centered around the digital future, specifically the role technology will play in the lives of today's students and how educators can prepare them from early on.
Having been in the field for over 20 years already, Fredkin reflected on the role technology has played in his own success and touched on the past of technology, speaking about the huge impact it continues to have in the economy as it enables the creation of so many careers that are both worthwhile and enjoyable.
"I was a student where traditional schooling didn't really work for me," said Fredkin, "but I did have access to computers and just through their use and having technology around, I was able to become proficient enough with computers to make a career out of it."
The influence in his own life along with the prominence of technology and computing in everyday life, inspired Fredkin to start Eduporium to help kids build the skills they need for a largely digital economy. He said that the company started when he saw, "the opportunity to represent evolution in an educational space." With this evolution Fredkin hopes to take the power within technology and use it in education to help younger generations in their future endeavors.
Even with all the possibilities that various technologies unlock, they are still not without challenges and likely never will be. Fredkin also touched on this, saying "In education, sometimes when people think of education with technology or computing, they think teaching the computer as opposed to the opportunity to teach the exact same things that have always been taught, but with a new tool."
Ultimately, Fredkin told Heath that he hopes that Eduporium can be a frontier for helping school systems integrate technology by facilitating engaged learning through makerspaces and hands-on educational opportunities that go beyond what's considered traditional. These spaces also help younger digital natives move beyond simply being passive users and into a more active role of learning while they work together.
Eduporium is a full-scale partner of the entire school community that views technology as a fundamental literacy in the 21st century. They work directly with teachers, schools, and districts to provide a one-stop shop full of meaningful and discounted technologies, including robotics devices, coding kits, and engineering tools, that enhance experiential learning and help students develop crucial, modern STEM skills.
For additional information, please visit http://www.eduporium.com or check out the podcast at https://www.spreaker.com/user/marketscale/rick-fredkin-on-empowering-the-future-wi