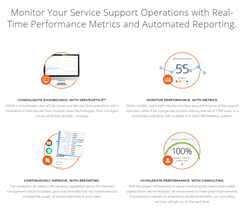 A business with a service desk that is aligned to business outcomes and uses the appropriate metrics to monitor the definitions of success will increase the effectiveness and efficiency of service support resulting in a huge competitive advantage.
FAIRFAX, Va. (PRWEB) May 24, 2018
Real Data Technologies has released its first software product in a suite of metrics monitoring tools called ServeOptics, which empowers ITSM leaders to make data-driven decisions that improve the customer support experience. Providing real-time analytics and reporting tools for enterprise service delivery and support organizations, ServeOptics consolidates data from multiple siloed service support technologies with limited reporting capabilities into a single dashboard offering the correlated performance metrics that service managers need to increase the effectiveness and efficiency of operations. The first release is a service desk metrics dashboard that provides the metrics needed to transform the incident management and request fulfillment processes into successful business enablement disciplines.
"A business with a service desk that is aligned to business outcomes and uses the appropriate metrics to monitor the definitions of success will increase the effectiveness and efficiency of service support resulting in a huge competitive advantage—the ServeOptics advantage is really that simple," said Evan Jones, Co-Founder, Real Data Technologies, Inc.
Using intuitive dashboards with trends analysis and advanced reporting capabilities, ServeOptics for the service desk enables managers to streamline operations with the metrics and key performance indicators (KPIs) that define the success of business services.

ServeOptics reduces the cost of operations. Managers understand how support activities are impacting their business, allowing them to prioritize assignments and deploy resources more efficiently. Agent utilization can be optimized, and ticket trends analysis can identify where efficiencies can be implemented. Self-help metrics serve to indicate areas of improvements with the IVR and knowledge articles that reduce the need for users to contact an agent, resulting in less ticket volume.
ServeOptics increases service support quality. Analyze ticket trends and knowledge article metrics to quickly adapt to changing customer support needs. Real-time SLA monitoring enables managers to take immediate actions, resulting in compliance each period. Self-help metrics indicate areas of improvements to the IVR and knowledge articles, resulting in faster user incident resolution.
ServeOptics improves customer satisfaction. Monitor the ticket queue to immediately address concerns with high visibility situations. To improve the customer service feedback, customer survey metrics indicate perceptions of the operation and details areas of improvements with the service and the agents.
Increased customer experience results from faster resolutions to incidents
As covered on the company blog, in the age of digital transformation today's customers have a need for instant gratification. When self-service portals, chats, support forums, and social media support are available as an alternate means of contacting the service desk with incidents or requests, it is not just best practice but also necessary to provide quick initial responses, acknowledging customer contact.
Around 53% of customers believe 3 minutes to be an appropriate amount of wait time when contacting technical support via phone. 42% of customers are using social media as a form of help desk support and expect a response within one hour.
In 2011, after 7 days of non-response or non-resolution, customers would give up entirely on a company. Now that time frame is closer to 24 to 48 hours. For those customers that do not have their expectations met, 96% of them never complain to the company offering support but 91% of them will leave.
Dissatisfied customers will tell friends and colleagues (9 to 15 people) about their negative support experience and around 13% will tell more than 20 people, leading to lost revenue and damaged reputations.
With the ServeOptics service desk metrics dashboard, Service Management teams get real-time insights into their support organizations, supplying them the service desk metrics they need to exceed customers' expectations.
About Real Data Technologies
Real Data Technologies, Inc. (RDT) has created a suite of IT Service Management (ITSM) software products that enables businesses to achieve a competitive advantage using metrics that measure process performance and their associated activities. Consulting services align service support activities to business service delivery objectives.
Evan Jones co-founded RDT in 2015 after observing limitations in service support technologies for over a decade while running business operations at XA Systems, LLC, an IT management consulting and service support company serving government and commercial industries.
Visit the company blog to read educational articles on service desk management, ITIL best practices, customer service, metrics and more by visiting http://blog.rdtmetrics.com/. Follow on Twitter at @RDTMetrics.