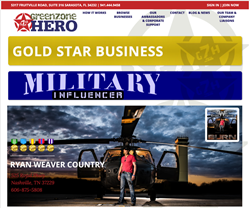 While there are a growing number of dedicated programs & organizations supporting Gold Star Families and survivors, there are currently no programs nation-wide to specifically honor and support the businesses these family members strive to continue. It's my goal to honor them. - Jill Stephenson
SARASOTA, Fla. (PRWEB) May 23, 2018
GreenZone Hero announces Jill Stephenson as the National Director of the GreenZone Hero Gold Star Family Business Campaign. She will lead the expanded GreenZone Hero campaign to honor families, support business growth, and educate communities. GreenZone Hero offers every Gold Star owned or operated business organization complimentary lifetime membership and support.
"While there are a growing number of dedicated programs and organizations supporting Gold Star Families and survivors, there are currently no programs nation-wide to specifically honor and support the businesses these family members strive to continue. It's my goal to honor these families, educate communities and help their businesses grow with GreenZone Hero," said Jill Stephenson, GZH National Director of Gold Star Family Businesses.
Jill Stephenson has more than 20 years in corporate leadership positions. She is also a Gold Star Mother and lost her only son, Army Ranger Cpl. Ben Kopp while he was serving in Operation Enduring Freedom. Cpl. Ben Kopp, an American hero who was credited with saving the lives of six of his fellow soldiers on the battlefield, was struck down defending his country; he died a Ranger, a warrior, and a patriot. And his heroism would not stop at death. Through the donating of his organs, bone, skin, and tissue, the mischievous and fun-loving kid from Rosemount, Minnesota went on to save the lives of four Americans and benefited the lives of more than sixty. The book, "Heart of a Ranger," collaborated with author and news reporter Bill Lunn, shares the story.
Jill speaks nationwide and is an active advocate for various organizations. Her voice speaks to a variety of audiences allowing her to be a featured speaker for Proctor & Gamble, the University of Minnesota and the US Army. "As a voice for the fallen and a voice to carry on, I'm honored to bring this initiative to Gold Star Family Businesses for GreenZone Hero," said Ms. Stephenson.
Top industry leaders have already joined the growing GreenZone Hero movement - from ski resorts, the hemp industry, golf courses, the motorcycle industry and more to implement best practices to represent their companies as veteran and military friendly. Gold Star Family Businesses such as Ryan Weaver (Country Music Star and Military Influencer), Frankie's Patriot Barbeque, and more have been honored. Now GreenZone Hero is calling all Gold Star Family Businesses to offer them a complimentary life-time membership in the community of veteran-friendly businesses.
John Krotec, founder of GreenZone Hero and Veteran himself said, "Honoring Gold Star family businesses with complimentary lifetime GZH memberships is the least thing we can do for families who've paid the ultimate price.  Our hope is to never forget the brave men and women who were killed defending our freedoms.  They made it possible for all of us to live the American Dream."  
GreenZone Hero also shares stories on their podcast platform - Straight Outta Combat "Audio Medicine" presented by Heroes Media Group .
May is Gold Star Awareness Month.
For more information visit http://www.greenzonehero.com.
About GreenZone Hero – "We Honor Freedom to Improve Business"
A global b2b movement, cutting-edge commerce and marketing platform to provide The Patriotic Way of doing business to honor our Freedoms. Our mission is to improve business and to connect people with Veteran & Military friendly businesses. With intrinsic value and economics in mind, we provide unique marketing & digital business-enhancement tools for businesses to differentiate themselves, believe in something again, and honor those who serve our country.
###