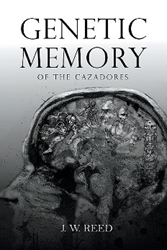 "Mr. Reed grounds the novel in a clear and compelling narrative, guiding audiences through the brilliantly crafted future through character and drama … Truly, this is a book both stunning novelistically and intellectually – and I cannot recommend it more highly." - Reviewer, Charles Asher
LAGUNA BEACH, Calif. (PRWEB) May 24, 2018
In the near future, a brilliant neuroscientist collaborates with his devious post-doctoral student. Their target: gain access to the "Genetic Memory" residing in all humans. What will they do with the knowledge?
J. W. Reed's compelling science fiction novel "Genetic Memory of the Cazadores" imagines the plausible science of translating locked codes in genetic memory to unleash the story of mankind's existence. Their cutting-edge brain research explores downloading individual memory for digital storage, and for future shared access.
Join an adventurer as he undertakes a dangerous journey into the mind. What will he find hidden deep in the chasm of human history? Will there be mystical or religious visions, vivid dreams, artistic inspiration, reincarnation, or perhaps he will discover the monster within.
Reviewer Charles Asher has written: "'Genetic Memory of the Cazadores' is a truly visionary work of science fiction that, in the tradition of Arthur C. Clarke and Jules Verne, feels equal parts captivating narrative of the human condition and – perhaps most excitingly – an instructive guide to new horizons of invention and knowledge … a refreshing shift from the current inundation of dystopian novels in the genre. Mr. Reed grounds the novel in a clear and compelling narrative, guiding audiences through the brilliantly crafted future through character and drama … Truly, this is a book both stunning novelistically and intellectually – and I cannot recommend it more highly."
About the Author: As a young child, J. W. Reed lived in the mountains near Evergreen, Colorado. This became the setting for the Neolithic chapters of his book in the Caucus mountains of Georgia. He now lives in California and is a financial advisor. His main hobby is astronomy and his photographs of deep space have been sold all over the world. "Though this book is fiction, I hope prescient fiction, is a wishful harbinger of a next step in the evolution of our own species."
"What if you could meet your ancestors and watch their experiences on a high-density digital screen? Illustrated by Beau Stanton, this stunning novel imagines how researchers in the future can delve into the mind to harvest knowledge that will transform everyone involved in the experiment. We are proud to be the publisher," said Robert Fletcher, CEO of Strategic Book Publishing and Rights Agency.
GENETIC MEMORY OF THE CAZADORES (e-Book ISBN: 978-1-948858-20-5, Kindle ISBN: 978-1-948858-21-2) is available for $9.99 at Amazon.com, BarnesandNoble.com,
and in multi-formats for other e-Readers through numerous vendors online.
The soft cover/hard cover version (ISBN: 978-1-948260-27-5, $16.95) can also be ordered through the publisher's website: http://sbprabooks.com/JWReed or at Amazon.com or Barnesandnoble.com.
WHOLESALERS: This book is distributed by Ingram Books and other wholesale distributors. Contact your representative with the ISBN for purchase. Wholesale purchase for retailers, universities, libraries, and other organizations is also available through the publisher; please email bookorder@sbpra.net.