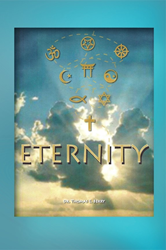 "The author addresses the issue of 'Is there a God?' better, and in more simple terms, than my decades of church-going provided … I recommend this book without hesitation or reservation. It's a classic." - Lloyd Costley, Amazon Reviewer
BALTIMORE (PRWEB) May 25, 2018
Lloyd Costley of Washington, D.C., wrote this 5-star review for Amazon: "Of the million books out there on religion, this should be required reading. I took a course in college on the major religions to better my understanding. I wish this had been in the curriculum. For example, after 9/11, you can't pick up the paper without reading references to Islam – but very few Americans, including me – know very little about the religion. After reading the Muslim chapter, I now understand why, and how, Christ and St. Gabriel were included in Islam, the difference between the Koran (Quran) and Hadith, the origin of the Sunni-Shiite feud, what Ramadan is all about, and many other aspects of the religion. It is true the author includes humor about all the religions, and some may feel humor has no place in religion, but he does not play favorites … Finally, the author addresses the issue of 'Is there a God?' better, and in more simple terms, than my decades of church-going provided … I recommend this book without hesitation or reservation. It's a classic."
The time has come for Tom to die. When he sees the light ahead, he wonders who will be waiting for him. Will it be Jesus, Mohammed, Moses, Vishnu, Buddha, or another prophet?
Everyone wonders what happens after death. For Tom, dying takes him to a misty tunnel. In the distance, he suddenly sees St. Peter at the world's largest computer, where they discuss Tom's life. St. Peter decides Tom should visit all the different heavens to see exactly where he wishes to spend eternity. Tom goes to the Protestant, Catholic, Hebrew, Muslim, and other heavens. Then he makes his selection.
Where will Tom spend Eternity? This thought-provoking novel delves into what may be the most important question people ever face: Where to spend Eternity?
Watch the video at: http://www.youtube.com/watch?v=BBFCjgTck0A
About the Author: Dr. Thomas E. Berry is a retired professor of Russian language and literature. He lectures for John Hopkins University, the Smithsonian Institution, the Russian Cultural Center of the Russian Embassy in Washington, D.C., and on international cruise lines. Dr. Berry received a "Gramota" from the Russian Government for service in fulfilling peaceful relations between Russia and the U.S., has published academic books and six novels listed on Amazon.com, and travels extensively.
"This eye-opening book makes for a fascinating read, as it answers questions in easy terms about the world's great religions. Where would you choose to spend Eternity?" said Robert Fletcher, CEO of Strategic Book Publishing and Rights Agency.
ETERNITY (ISBN: 978-1-61897-433-4) is available for $12.50 and can be ordered through the publisher's website: http://sbpra.com/DrThomasEBerry or at Amazon.com or Barnesandnoble.com.
WHOLESALERS: This book is distributed by Ingram Books and other wholesale distributors. Contact your representative with the ISBN for purchase. Wholesale purchase for retailers, universities, libraries, and other organizations is also available through the publisher; please email bookorder(at)sbpra.net.