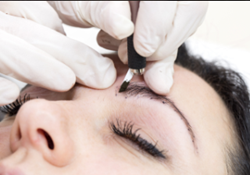 [Microblading's] appeal is largely based not only on the desirable final result but the convenience of having a "one and done" set of eyebrows
BEVERLY HILLS, Calif. (PRWEB) May 29, 2018
A May 21 article on InStyle reports on the seemingly instant popularity of a new product going by the name of the Jet Lag Mask. The product, which has garnered endorsements from modern day beauty icons Kim Kardashian and Jessica Alba, is a moisturizing mask which does not have to be washed off. The product is aimed not only at tired travelers but also at "women with busy lifestyles—parents, those with hectic jobs, and women who are doing a lot all the time," according to one of its creators. Microblading for eyebrows is attractive to a very similar sort of individual, says Los Angeles salon Beverly Hills Permanent Makeup.
Microblading is a process that produces fuller, more realistic eyebrows that typically last from 18 months up to two years. The salon says that its appeal is largely based not only on the desirable final result but the convenience of having a "one and done" set of eyebrows that don't need to be recreated on a daily basis. Clients generally agree that, of all makeup challenges, getting eyeliner right each morning is the greatest challenge, requiring attention to detail that takes some real time, says the salon. It adds that some women find it especially difficult on the days and nights when it might matter the most: when they're under stress because of an important meeting, job interview, or social event. Moreover, women today are pushed in more different directions than ever, says the salon. While more men are trying to hold up their end of child-rearing and household chores, the truth is that many women with well-intentioned spouses still wind up with the lion's share of the housework, while also taking on careers that are just as time consuming and challenging as their partner's. Moreover, says the salon, single mothers and those in nontraditional families face time consuming challenges of their own. The beauty of having one less chore to do before going out is obvious.
The salon also adds that the appeal of microblading and permanent makeup is widening to include all types of people. The salon notes that, while the stereotype of a Beverly Hills salon might suggest that its clientele is comprised entirely of actresses, singers, and wealthy socialites, that is far from true. Women in Los Angeles are like women in any other major city, says the salon, and while people from the entertainment industry comprise some of its clientele, it also serves its share of accountants, teachers, and high-tech employees – all of whom may be as busy as the most harried movie star or agent. The salon says that it encourages women from all walks of life to not be intimidated by the fact the salon is in Beverly Hills.
Microblading has a number of applications besides women's eyebrows. To find out more, interested readers are invited to reach out to Beverly Hills Permanent Makeup and its chief makeup artist Elnaz "Ellie" Shariat by calling 424-BHPM-411 (424-247-6411). They can also visit the salon's web site at https://www.bhpermanentmakeup.com/.