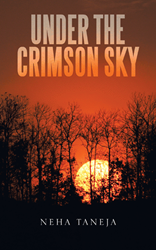 NEW DELHI (PRWEB) May 23, 2018
An active member of poetry platforms and drawing inspiration from daily life, Neha Taneja's micro poetry is her way of tackling the monotony of people's routine daily lives. The various poetry challenges and word prompts inspired Taneja to write every day. Her debut publication titled "Under the Crimson Sky" (published by Partridge India) is a compilation of her poems. She pens down the human emotions of love, loss and sense of belongingness.
Taneja chose the epithet "Under the Crimson Sky," for her debut book, since a seemingly daily natural event as the setting sun with crimson hues can mesmerize a person with its sheer beauty and enkindle the creative spirit. The colour crimson resonates with love, a feeling which has no doors and is borderless. Likewise, the poems inside the book succinctly capture the beauty and emotions that get buried in people's daily routines.
"The poems are short and easy for anyone to read," Taneja states. "Since there is paucity of time in our lives one can conveniently read the short verses. The stanzas strike a chord with the readers' feelings and one feels this is what I relate to."
Readers may visit https://www.amazon.com/Under-Crimson-Sky-Neha-Taneja/dp/1543702821/ to know more about this micro poetry book. It interprets multitude of emotions including love, heartbreak and life. The poems follow the trail of people's contemporary and modernized lives.
As readers embark on this poetic journey, Taneja hopes that readers also share their feelings with their loved ones and ponder over important things which are often ignored. "The book is the reflection of our thoughts, it speaks about our innermost feelings on life," she adds.
"Under the Crimson Sky"
By Neha Taneja
Softcover | 5x8 in | 86 pages | ISBN 9781543702828
E-Book | 86 pages | ISBN 9781543702811
Available at Amazon and Barnes & Noble
About the Author
Neha Taneja has studied at the great Nobel Laureate, Rabindranath Tagore's University, Visva Bharati, located in Santiniketan, West Bengal. The creative environment and serene atmosphere inspired her to follow her passion for reading and writing. Her love for the arts has driven her to choose photographs as subjects for the poetry. She currently teaches geography at a reputed school in Delhi and writes regularly on different themes.
Partridge India, a Penguin company, is a leading provider of book publishing, marketing, and bookselling services for authors in India, all priced appropriately for the Indian market. Committed to providing the highest level of customer service, Partridge India assigns each author personal publishing and marketing consultants who provide guidance throughout the process. Partridge India shares its headquarters with Penguin Books India in New Delhi. For more information or to publish a book, visit http://www.partridgepublishing.com/india or call 000.800.10062.62. For the latest, follow @PartridgeIndia on Twitter.