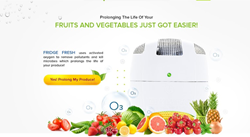 "Using our same proven technology, we have made a few small changes and upgrading our company to encompass a lifestyle of health and O3. No matter what life throws at you, we have you covered."
HENDERSON, Nev. (PRWEB) May 24, 2018
According to the United States Department of Agriculture (USDA), food waste in the nation makes up a large portion of the actual food supply. An alarming 30 to 40 percent of the food being processed and sold in the US finds its way into landfills throughout the country. Food waste cost Americans $161 billion in 2010 and continues to be a problem nearly a decade later.
Less Physical and Financial Waste with Every FRIDGEFRESH® unit sold!
Developing better ways to handle and preserve food is a challenge that Activated Oxygen Technologies has been up for. The company is the mastermind behind the recently renamed FRIDGEFRESH® which was formerly known as Berry Breeze, a small device that extends the fridge life of fresh produce. The technology which has been in the making for a while now, recently went through some updates including being given a new and more memorable name.
When asked the reasoning behind the changes, CEO Kevin Brooks had the following to say:
"Using our same proven technology, we have made a few small changes, upgrading our company to encompass a lifestyle of health and O3. No matter what life throws at you, we have you covered."
Helping families get more nutritional value out of the money they spend is a goal of the company's. Through their revolutionary technology, people are able to enjoy more of the foods they've purchased with fewer instances of waste. A FRIDGEFRESH® unit benefits their personal economies and the planet, too.
The Benefits of Activated Oxygen Technology or O3 are Well-Noted
Activated Oxygen Technology or O3 has distinct benefits. The three-atom oxygen molecule oxidizes fridges, removing the bacteria, pollutants, viruses, and odors that destroy the integrity of refrigerated food. The FRIDGEFRESH® unit uses O3 to stop microorganisms from spoiling produce prematurely. It also neutralizes ethylene gas which causes fruit to ripen rapidly.
Foregoing baking soda and using a FRIDGEFRESH® unit instead to remove odors from confined spaces helps preserve the contents of a fridge without tainting them. It's an economical solution that is free of toxins and environmentally-safe. A chart showing which fruits and vegetables to store together and which to store apart is available on the company's website for quick reference.
About FRIDGEFRESH®:
The FRIDGEFRESH® unit is a consumer product that uses activated oxygen to keep household refrigerators pollutant and microbe-free. The end result is fresher, longer-lasting produce for people to enjoy. On average, fruits and vegetables last 7-10 days longer than they would without the small device.
Providing a viable solution to families who don't buy produce out of fear that it will wilt or become moldy before it is consumed, the Activated Oxygen Technologies device helps alleviate fears and reduce the dependency on processed foods. Consumers who use the FRIDGEFRESH® unit are able to eat healthier, more nutrient-dense foods and stretch their grocery budgets further by eliminating much of the food waste they would generate without the product.
To learn more about Activated Oxygen Technologies and its incredible FRIDGEFRESH® unit, visit: https://fridgefresh.com.