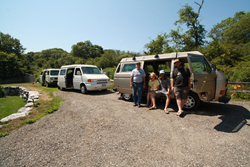 Just nature's music, no crowds here!
BRUNSWICK, Maine (PRWEB) May 25, 2018
In search of simplicity and a disconnect from technology, weekend warriors, families, millennials, and baby boomers alike are setting out on the open road in ever growing numbers—in rented vintage VW camper vans.
Surprisingly, this rising trend is not just for adventure-seekers; the versatility and back-to-nature purity of a camper van offers freedom and the opportunity to be as spontaneous or planned as travelers desire without the worry or constraints of hotel availability or crowded restaurants.
Americans and Europeans discovered this unique, inexpensive way to glamp in New England on the cheap with the VW Westfalia CamperVans.
Wetfalia Campervans offer all the comforts of home in a compact space without requiring a special Land Yacht license to drive, or the challenges of bulky and hard-to-park RVs. Most come fully provisioned and equipped with beds, linens, cookware, dishes, utensils, a small kitchen, bathroom, and literally all the compact comforts of home. You're not even dependent upon availability at a camp ground. With a camper van you can pick your spot in an instant, pop the top, and call it a night right there!
Camper van adventurers are limited only by their imagination and choice of destination—it's easy to find a unique or remote site near the ocean, streams, lakes, mountains, and trails, and once discovered you simply pop the top and you are home; free to explore, build a campfire, hook up a portable hammock and escape in a good book, do whatever the spirit leads—or nothing at all.
Camper van rentals are a vacation from the ordinary and completely customizable. There are no tour guides, no boundaries, and no restrictions—unless you want them. The convenience is just one of the factors drawing people from all walks of life, and from all over the globe.
Who is attracted to the #VanLife trend? Singles, couples, families, women seeking a girlfriend getaway, groups, multi-family gatherings, older couples, younger couples—even international tourists are beginning to catch on to the true sense of adventure, freedom, and spontaneity that is inherent with van camping. There are no limits as long as someone has a valid driver's license.
What's the draw? Is it the great memories of the iconic Volkswagen van and its magical pop-up top, and the opportunity to 'peace out'? Or the lure of a road trip that's truly self-sustained and not reliant upon or complicated by any other factor apart from a vacationer's imagination? The motivation behind the love for van camping is as unique as the experience itself.
There's a sense of community so strong with VW vans that renters often find random people giving them a peace sign as they drive by, nods of the head, and high-fives at stops. Some say the longing to return to a simpler time and the need to experience carefree days are a part of what drives their love of camper van vacations, and then brings them back repeatedly. Simpler times and carefree days are naturally associated with these iconic vintage vans. Renters often comment that their lives are changed by a vacation or road trip in them.
Renters report they appreciate most that the possibilities are nearly endless and every day presents a clean slate waiting to be filled with the vacationer's dreams. It's true freedom, and many campers will testify to the fact that it's the best vacation they've ever had.
"It's not necessarily about the van," Bob Muller of Vintage Van Adventures shares, "it is about a truly different 'glamping' experience that's convenient, different, fun, and completely customizable; all with the true sense of nostalgia and adventure inherent in a VW vintage camper van. We have customers from all over the world renting our vintage VW camper vans. Some return year after year, reserving a year in advance."
USA Today and the Financial Times report that Europeans sometimes have a "stress elimination" transformation as a result of a camper van vacation, and this trend is growing within the USA, as well. Vintage van rental companies testify to the fact that loyal customers are seeking out rentals in different regions of the country for an annual "See America" road trip.
While the flexibility of a camper van vacation appeals to those who seek a return to simpler days, millennials also love the fact that they can almost instantaneously chose a stopping point, and pick up again when they choose. Unencumbered by the usual vacation restrictions, a camper van adventure is uninhibited, supports instantaneous gratification and is often in alignment with millennial idealism and purpose.
It also doesn't hurt that a camper van experience can provide the perfect Instagram and Snapchat photo opportunities for timelines, stories, and feeds.
Is a VW vintage camper van the perfect vacation? Many think so. It's difficult to find another affordable vacation option that can meet such a wide range of vacation goals and objectives like a camper van does; whether seeking a vacation that is unconfined, one that provides a sense of community, a connection with nature, the draw of spontaneity, a need for solitude, a romantic getaway, a family adventure, a newlywed couple's honeymoon, or a group convoy—camper van rentals can meet all these expectations, vacation dreams and more.
Bob Muller explains, "Vintage Van Adventures is a professional vintage VW van rental company. They provide renovated, modernized and fully stocked camper vans with convenient pickup in Brunswick or Freeport Maine. They are fuel-efficient and economical with room, board, and transportation all in one. Everything you need for cooking, sleeping and enjoying your adventure is included. They are also 100% restored with added safety features not found in the original old vans."
While Vintage Van Adventures' home base is Maine, and their clients often explore New England or the Maritimes, they also have relationships with reliable van rental companies across the United States, and happily refer their customers who desire a trip origination in another region, or another coast, to a trusted connection. Bob Muller's additional advice? "Make your reservations early."
There is even a special wedding van. It is a 1964 split windshield and 11 window fully restored van. It comes with a driver too.
If you have a group and want an experiential trip with multiple vans, check out our new sister site, WanderVW. At WanderVW, we take you anywhere in New England on a themed tour.
2018 may just be the year to experience a van rental vacation, and see for yourself what its like to hit the open road, and design every moment of your vacation to be exactly what you want; the only limits being the ones you choose. Check out Vintage Van Adventures.