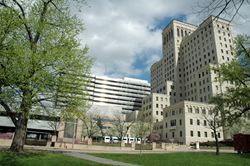 AHN's representation on the ISHLT board is a testament to the high esteem with which our program and physicians are regarded around the world for the treatment of end-stage heart disease.
PITTSBURGH (PRWEB) May 23, 2018
Two doctors from Allegheny General Hospital (AGH) have been selected to the 16-person board of directors for a worldwide organization focused on improving the care of patients suffering from advanced heart or lung disease. The International Society of Heart and Lung Transplantation (ISHLT) recently elected AGH cardiologists Raymond Benza, MD, and Manreet Kanwar, MD, to its board at the ISHLT 38th Annual Meeting and Scientific Sessions in Nice, France. They are the only board members from the same hospital. In addition to his position on the board of directors, Dr. Benza was appointed the organization's treasurer, one of the Society's five executive officer positions.
An internationally renowned clinician and researcher, Dr. Benza is Medical Director, Advanced Heart Failure, Transplantation, Mechanical Circulatory Support and Pulmonary Hypertension for the Allegheny Health Network (AHN) Cardiovascular Institute at AGH. Dr. Kanwar is Medical Director of the Chronic Thromboembolic Pulmonary Hypertension (CTEPH) Program at AGH, with an expertise in advanced heart failure, pulmonary hypertension, cardiac transplantation, and mechanical circulatory support.
Formed in 1981 at a gathering of about 15 cardiologists and cardiac surgeons, the ISHLT has blossomed into an organization that now spans the globe with 3,000-plus members in more than 45 countries. Dr. Benza and Dr. Kanwar join a group that includes clinicians and researchers from the likes of Stanford University, St. Louis Children's Hospital, University of Pennsylvania, University of Michigan, Henry Ford Hospitals, University of California—San Francisco, Drexel University College of Medicine, and Northwestern University, as well as individuals practicing in Sweden, the United Kingdom, Germany, and Belgium. The treasurer term is for one year, while Dr. Benza and Dr. Kanwar each will serve a three-year term on the board of directors.
"AHN's representation on the ISHLT board is a testament to the high esteem with which our program and physicians are regarded around the world for the treatment of end-stage heart disease," said Srinivas Murali, MD, System Director, Division of Cardiovascular Medicine, and Co-Chair of the AHN Cardiovascular Institute. "To have not one but two AGH physicians elected to the board in the same year, though, is truly an amazing feat. We are honored and extremely proud of the work of Dr. Benza and Dr. Kanwar."
"This recognition of Dr. Benza and Dr. Kanwar by the professional society that represents cardiac transplantation and mechanical circulatory support world-wide is also proof that these programs at AHN have excellent an national and international reputation," said George Magovern, Jr, MD, Chairman, Department of Thoracic and Cardiovascular Surgery, and Chairman of the AHN Cardiovascular Institute.
The ISHLT works to encourage and stimulate basic and clinical research in heart and lung transplantation, end-stage heart and lung disease, and promote new therapeutic strategies. The organization also sponsors a scientific journal to publish manuscripts related to these disciplines, keeps an international registry for heart and lung transplantation, and awards research grants.
"Having been members of the ISHLT for many years, Dr. Kanwar and I are well aware of the impactful work this organization is capable of doing," said Dr. Benza. "We look forward to taking on these leadership posts in the Society and playing a role in further advancing the science and treatment of advanced heart and lung disease."
A leading researcher in the study of pulmonary hypertension, Dr. Benza and his team are currently in the midst of a 4-year research project – supported by a $2.6 million grant from the National Institutes of Health (NIH) – with the goal of creating a more comprehensive risk assessment tool for patients with pulmonary hypertension. Researchers are reviewing data provided by several major pharmaceutical companies on up to 8,000 patients and pairing it with existing data to develop a risk prediction and stratification tool. The goal is to use that tool to identify the best course and timing of treatment based on a pulmonary hypertension patient's risk factors.
Dr. Kanwar is also a noted clinician and researcher, and a co-investigator in a multi-site, NIH-funded study to develop a risk stratification tool known as CORA (Cardiac Outcomes Risk Assessment) for patients with advanced heart failure. The aim of CORA is to more accurately predict which patients would be better served by getting ventricular assist devices (VADs) and which patients should be spared the unnecessary risks of the potentially debilitating side effects from receiving a VAD. The CORA decision-support tool uses machine-learning predictive algorithms, based on data from tens of thousands of patients with VADs, to help patients weigh the risks and benefits of being implanted with a VAD.
"Just as we worked hand in hand with colleagues at several leading health systems and universities to develop CORA, I look forward to that same kind of collegial approach in serving on the board of the ISHLT," said Dr. Kanwar. "As physicians and researchers, it is gratifying to know that we will get to provide our insights and knowledge with this group while also learning from them about the latest and best practices and what is on the horizon when it comes to treating end-stage heart and lung disease. We are part of an international forum of our peers to discuss, debate, and analyze the best approaches to care for these very sick patients."
About the Allegheny Health Network
Allegheny Health Network (AHN.org), a Highmark Health company, is an integrated healthcare delivery system serving the greater Western Pennsylvania region. The Network is composed of eight hospitals, including Allegheny General Hospital, its flagship academic medical center in Pittsburgh, Allegheny Valley Hospital in Natrona Heights, Canonsburg Hospital in Canonsburg, Forbes Hospital in Monroeville, Jefferson Hospital in Jefferson Hills, Saint Vincent Hospital in Erie, West Penn Hospital in Pittsburgh and Westfield Memorial Hospital in Westfield, NY. The Network provides patients with access to a complete spectrum of advanced medical services, including nationally recognized programs for primary and emergency care, cardiovascular disease, cancer care, orthopedic surgery, neurology and neurosurgery, women's health, diabetes and more. It also is home to a comprehensive research institute; Health + Wellness Pavilions; an employed physician organization, home and community based health services and a group purchasing organization. The Network employs approximately 19,000 people, has more than 2,400 physicians on its medical staff and serves as a clinical campus for Drexel University College of Medicine, Temple University School of Medicine, and the Lake Erie College of Osteopathic Medicine.