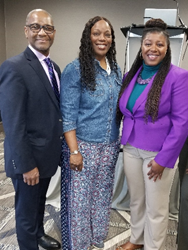 "LEAP is hosting a #MoreThanPain Twitter Chat on May 29, 6:00 p.m. to discuss chronic pain associated with lupus and other chronic conditions, the risk of substance abuse faced by these patients and the changes in opioid prescribing" says Thometta Cozart, MS, MPH, CPH, CHES, LEAP Project Manager.
WASHINGTON (PRWEB) May 23, 2018
This year's initiative of the Lupus Education Awareness Program (LEAP) is to address chronic pain management as a secondary condition of lupus and help health professionals make better informed decisions regarding treatment. LEAP endeavors to reduce lupus health disparities by providing educational programming for doctors, nurses, health professionals, substance abuse prevention specialists and students through partnerships with the Chi Eta Phi Sorority, Inc. professional nurses organization, the National Medical Association and Urban Minority Alcoholism & Drug Abuse Outreach Programs of Ohio.
LEAP is highlighting the following activities in observance of May being Lupus Awareness Month to bring lupus chronic pain management to the forefront:

Thursday, May 24, Roundtable Discussion on the Intersection of Lupus, Chronic Pain Management and Substance Abuse Prevention at the National Board of Certified Counselors Foundation's 'Bridging the Gap' Symposium in Reston, VA. Learn more here: http://www.nbccf.org/Symposium
Tuesday, May 29, 6:00 pm EST, #MoreThanPain Twitter Chat to discuss chronic pain associated with lupus, sickle cell and other chronic conditions and the risk of substance abuse faced by these patients. Substance abuse, lupus and chronic pain experts will answer questions related to opioid prescribing, culturally competencies related to chronic pain management and disparities that exist among chronic pain patients, especially those from minority populations. The Chat will feature Chronic Disease Coalition, Substance Abuse Expert Dr. Sherra White and Lupus Patient and Advocate Hetlena Johnson.
Lupus is a lifelong disorder of the immune system. It is a chronic inflammatory disease that can affect the joints, skin, kidneys, blood cells, brain, heart and lungs. It can be fatal. The mystery of lupus is that it has the look of a multitude of other diseases. There is no one test to diagnose the condition; it takes a combination of symptoms, tests, and physical exams to reveal lupus.
"It is our dream that through increased awareness of lupus by doctors, nurses, health professionals and the minority populations, we will eventually reduce the diagnosis timeframe from 4-to-6 years," says LEAP Director Steven Owens, MD, MPH, MA.
In addition to LEAP's national lupus activities, four non-profit organizations and health agencies have partnered with LEAP to provide lupus health education directly to local clinicians, health educators and the communities in Arkansas, Indiana, Illinois and Louisiana. These agencies are the Lupus Foundation of Arkansas; the Lupus Foundation of America – Indiana Chapter; Illinois Department of Public Health Center for Minority Health Services; and Crescent City WIC Services Inc. With support from LEAP, these agencies have hosted lupus awareness workshops and webinars, monthly lupus support sessions and created lupus awareness videos featuring lupus patients.
The LEAP Program is administered by the National Association of State Offices of Minority Health and is funded through the National Lupus Outreach and Clinical Trials Education Program of the Office of Minority Health, US Department of Health and Human Services. For more info about the program contact, LEAP Project Manager Thometta Cozart, MS, MPH, CPH, CHES, at leaplupus(at)gmail(dot)com.