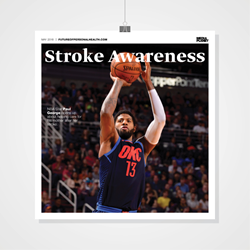 She walked, she exercised, so it just kind of came out of left field. It was a disease that really, I didn't understand.
NEW YORK (PRWEB) May 24, 2018
Helping to conclude National Stroke Awareness Month, Mediaplanet today announces the launch of this May's edition of "Stroke Awareness." This campaign endeavors to educate people of all ages on how to reduce the risk of stroke, as well as increase awareness of caregiving strategies for loved ones and health care providers in order to better the lives of stroke survivors.
Stroke is the fifth-leading cause of death in the United States, with someone falling victim of stroke every 40 seconds. And though the impact of a stroke varies from person to person, with some making a full recovery, two-thirds of survivors will be left with some form of disability. Yet up to 80 percent of strokes can be prevented, making it more crucial than ever to spread awareness about prevention.
The print component of "Stroke Awareness" is distributed within today's edition of USA Today in New York, Los Angeles, Chicago, Boston, Washington D.C./ Baltimore, Nashville, South Florida and Cincinnati markets, with a circulation of approximately 250,000 copies and an estimated readership of 750,000. The digital component is distributed nationally, through a vast social media strategy and across a network of top news sites and partner outlets. To explore the digital version of the campaign, click here.
One of the biggest advocates for stroke awareness, NBA star Paul George, graces the cover of the print publication. Through an exclusive interview on the interior, Paul reveals his mother Paulette's stroke blindsided the whole family. "My mom was healthy," recalls George. "She walked, she exercised, so it just kind of came out of left field. It was a disease that really, I didn't understand." When asked about playing a caregiver role, he shares, "whatever it took, whatever I had to do, whatever my mom needed, I was going to be there for her." In the years since his mom's stroke and subsequent full recovery, Paul has become one of the biggest advocates for stroke awareness, partnering with groups like the American Heart Association and bringing relief to victims by letting them know that there is always hope — and community. Speaking on the most meaningful part of being a voice for awareness, Paul says, "I think it's just letting people know they're not in it alone. It's something I've been through; my family has been through."
This campaign was made possible with the support of the American Heart/Stroke Association, National Stroke Association, American Speech-Language-Hearing Association, World Stroke Organization, American Association of Neuroscience Nurses, American College of Cardiology, Stroke Comeback Center, National Aphasia Association, Stryker, Medtronic, NewYork-Presbyterian, Premier Health, Boston Heart Diagnostics, Claret Medical and Vidyo.
About Mediaplanet
Mediaplanet specializes in the creation of content marketing campaigns covering a variety of industries. We tell meaningful stories that educate our audience and position our clients as solution providers. Our unique ability to pair the right leaders with the right readers, through the right platforms, has made Mediaplanet a global content marketing powerhouse. Our award-winning stories have won the hearts of countless readers while serving as a valuable platform for brands and their missions. Just call us storytellers with a purpose. Please visit http://www.mediaplanet.com for more on who we are and what we do.
Press Contact:
Fernando Isaacs
fernando.isaacs(at)mediaplanet(dot)com
(646) 518-5421