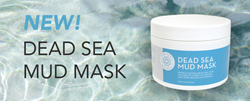 The original Dead Sea Mud Mask is one of our customers' favorite products, which is exactly why we wanted to secure it as the absolute best.
CINCINNATI (PRWEB) May 25, 2018
Pure Body Naturals, known for their natural beauty and wellness products, has announced the launch of a new premium Dead Sea Mud Mask. There's been significant hype with Dead Sea mud in the beauty industry, and the team at Pure Body Naturals is no stranger to this natural ingredient. In fact, they currently have one of the best-selling Dead Sea Mud Masks on Amazon. With much success surrounding the brand's original Dead Sea Mud Mask, the team at Pure Body Naturals decided to zero in on making their best-selling skincare treatment the most natural, premium and effective face mask available online.
Enhancements to the face mask include:
Zero toxins or harmful chemical ingredients
40% more pure Dead Sea mud (vs. the previous version)
Added Bentonite clay and charcoal powder for absorption and cleansing
Added Shea Butter for more natural hydration
Completely fragrance-free
Made in the USA
A mud mask with staying power
Why is Dead Sea mud growing in popularity? As one of Israel's most fascinating wonders, people from all over the world travel to the Dead Sea to experience its natural beauty, health and wellness powers. The water boasts the highest concentration of salt in the world, creating mineral-rich mud that deeply cleanses, detoxifies and stimulates the skin.
The reality is, not everyone has the luxury of visiting the Dead Sea to float and soak up the powerful ancient mud. That is why it's becoming such a prominent ingredient in skin care products –– and Pure Body Naturals was among the first to introduce Dead Sea mud in a face mask back in 2015. "We created a product that hadn't really been tried yet. But in full transparency, it was originally made in China, and was not the most natural version we could make," says Emily Warner, Brand Director. "Our goal back then was to create an effective mud mask, and we did exactly that. Now, we are evolving as a brand and are fully committed to our core promise of making conscious beauty products with the most natural, simple ingredients possible."
Focused on customer feedback
The new mask is not a complete change, but an enhancement to the brand's original Dead Sea Mud Mask. The original formula frequents Amazon's Best Seller list, but the Pure Body Naturals team wasn't satisfied. "Our vision was simple… focus on the feedback of our customers to guide any improvements or changes," says Warner. "The original Dead Sea Mud Mask is one of our customers' favorite products, which is exactly why we wanted to secure it as the absolute best. We're perfectionists, and always looking for ways we can make our products better."
Ingredient transparency + made in the USA
The new Dead Sea Mud Mask recipe includes 100% natural Dead Sea mud, plus naturally powerful bentonite clay and charcoal powder to boost the mask's detox benefits. Honest ingredient sourcing and traceability is one of the brand's core principles. "Transparency is extremely important within the natural beauty industry. Plus, when you sell on Amazon, you are up against brands of all credos, and even knock-offs or imitators who are not honest about their products. So we are extremely focused on being one of the brands you can wholeheartedly trust moving forward." concluded Warner.
The new Dead Sea Mud Mask, which sells for $18, is now available on Amazon and the Pure Body Naturals website.