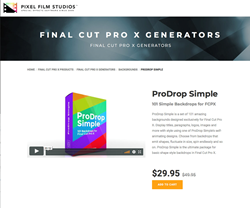 "ProDrop Simple brings fun and creative backdrops with a simplistic design to be applied to any FCPX project."
ALISO VIEJO, Calif. (PRWEB) May 27, 2018
ProDrop Simple is a set of 101 amazing backgrounds designed exclusively for Final Cut Pro X. Display titles, paragraphs, logos, images and more with style using one of ProDrop Simple's self-animating designs. Choose from backdrops that emit shapes, fluctuate in size, spin endlessly and so on. ProDrop Simple is the ultimate package for basic shape style backdrops in Final Cut Pro X.
ProDrop Simple is filled to the brim with content. Select from presets that animate shapes in a variety of unique ways. Each design features a specially made layout and animation style with customizable options. Choose from designs that contain all sorts of shape elements such as squares, circles, triangles, lines and more.
Each preset included in ProDrop Simple comes with a set of controls for customizing the layout and colors of the design. Adjust a variety of parameters that are unique to each preset including angles, sizes, variance, offset and many more. Finally, select any two colors using the color pickers to easily change the look of the design to fit any purpose.
ProDrop Simple's self-animating designs all feature an animation control panel so that users can make animations faster or slower by simply moving the position of a slider. Many presets also include options for things like the amount of animation and how many elements move at once. The possibilities are endless with ProDrop Simple.
Featuring over 100 amazing presets, ProDrop Simple is a steal. Each preset is completely unique and can be used with default settings or adjusted to create brand new looks with little to no effort. ProDrop Simple is the absolute best value for a geometric background package in Final Cut Pro X.
Established in 2006, Aliso Viejo, California-based Pixel Film Studios is an innovative developer of visual effects tools for the post-production and broadcast community. Their products are integrated with popular non-linear editing and compositing products from Apple FCPX. Apple, the Apple logo, Mac OS X, and Macintosh are registered trademarks of Apple Inc. in the U.S. and/or other countries. All other trademarks and trade names are the property of their respective owners.