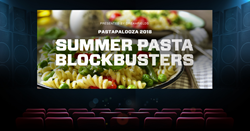 Each week, pasta lovers can find recipes that are the perfect accent to summer bar-b-ques or quick meals before heading out to the baseball diamond. Life is busy; Dreamfields Pasta helps make meals simple."
MINNEAPOLIS (PRWEB) May 24, 2018
Dreamfields pasta is rolling out the red carpet for its annual summer promotion, #Pastapalooza2018. Now in its 8th year, the program will feature blockbuster summer pasta recipes, healthy eating information, and exciting weekly prizes from May 23 through the Fourth of July. All entries will also feed into the drawing for the Grand Prize – a year's supply of pasta and a $1,000 VISA gift card.
Spoiler alert! Each week a different movie genre will be featured via recipes, coupons, and new chances to win exciting prize packages which include:

5/23: Superheroes -- Bam! Win Fandango gift cards ($250) and a case of pasta (3 prizes awarded)
5/30: Chick Flicks – Win a pamper-perfect duo of a $200 Spafinder.com gift card and a pasta family pack (2 prizes awarded)
6/6: Animation -- Make it a family movie night complete with home movie projector, indoor/outdoor projection screen, and a family pack of pasta (3 prizes awarded)
6/13: Action – Be your own action hero with the help of a Fitbit Blaze Watch and a case of pasta (2 prizes awarded)
6/20: Sci-Fi – Explore the horizons and binge on shows you never knew you needed via a year's subscription to Netflix and a family pack of pasta (3 prizes awarded)
6/27: Patriotic -- Celebrate your independence with an ultimate picnic set (picnic basket/blanket/blue tooth speaker) and a family pack of pasta (4 prizes awarded)
Grand Prize: Drama, suspense, and the ultimate thriller! Score a $1,000 VISA gift card and a year's supply of Dreamfields pasta.
"Dreamfields is featuring a cast of fun elements in our exciting summer program, #Pastapalooza2018," said Liz Housman, Dreamfields Director of Marketing. "Each week, pasta lovers can find recipes that are the perfect accent to summer bar-b-ques or quick meals before heading out to the baseball diamond. Life is busy; Dreamfields Pasta helps make meals simple."
Made from a blend of fiber and plant proteins, Dreamfields pasta offers many healthy benefits while still having the same great taste as traditional pasta. Each one cup cooked serving has 5 grams of fiber and 7 grams of plant protein. Available in 7 different pasta shapes, look for the black box in the pasta aisle.
One of the recipes that will be the perfect complement to your script for a blockbuster summer is BBQ Chicken Pasta Salad. For more delicious recipes, visit http://www.DreamfieldsFoods.com.
BBQ CHICKEN PASTA SALAD
By: The Lean Green Bean
Preparation time: 25 minutes
Cook time: 11 minutes
Total time: 36 minutes
1 box Dreamfields Rotini
2 tablespoons avocado, olive, or vegetable oil
2 pounds boneless, skinless chicken breasts diced (about 1/2-inch)
2 teaspoons ground cumin
2 teaspoons paprika
1 cup diced red onion (about 1/4-inch)
2 cups diced red bell pepper (about 1/4-inch)
1-1/2 cups fresh or frozen corn kernels
1-1/2 cups cherry tomatoes, quartered
1 cup no-salt-added black beans, drained and rinsed
2/3 cup barbecue sauce
2 medium avocados (approximately 1 pound total)
2 tablespoons fresh lime juice (1 lime)
1/2 teaspoon kosher salt
Chopped fresh cilantro
1. Cook pasta according to package directions; set aside.
2. Meanwhile, heat avocado oil in large skillet over medium-high heat. Add diced chicken, cumin, paprika, onion and bell pepper. Cook 5 to 6 minutes, stirring frequently. Stir in corn, tomatoes and black beans. Cook an additional 3 to 5 minutes or until chicken is cooked through, stirring frequently.
3. Transfer chicken mixture to large bowl. Add barbecue sauce; mix well.
4. In small bowl, for guacamole, scoop avocados out of shell and remove pits. Mash with fork. Add lime juice and salt; stir to combine.
5. Cool chicken and pasta mixture at least 20 minutes. Serve immediately or refrigerate, covered. Just before serving, stir guacamole into pasta mixture. Garnish with fresh cilantro, if desired.
Note: If desired, mix minced fresh cilantro into guacamole before adding to pasta mixture. Drizzle with additional barbecue sauce, if desired.
Makes 8 servings.
Nutrition information (1/8 of recipe): 495 calories; 35g protein; 62g carbohydrates; 14g total fat; 2g saturated fat; 70mg cholesterol; 410mg sodium; 11g total dietary fiber.