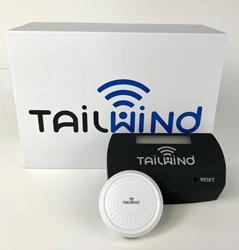 NIAGARA FALLS, Ontario (PRWEB) May 24, 2018
Tailwind, a Canadian tech company, today announced it is now shipping its iQ3, the most advanced smartphone enabled garage door controller on the market. Smartphone controlled garage door openers have been around for years, but none of them offer such a rich user experience with so much advanced automation. Using patent pending technology, the unique tech gadget can sense which vehicle a homeowner is driving, automatically close the door as they leave, and open it at exactly the right time as they arrive, using GPS technology and other sensors. Families with multiple vehicles and garage doors can assign vehicles to different doors. The iQ3 even works with motorcycles and ATVs.
"There are many solutions on the market that allow homeowners to control and monitor their garage doors with their smartphone. There are advantages to that, but they are limited. The automation is lacking. Nobody wants to drive up to their house and fiddle with their phone to open the garage door. That's actually less convenient than a typical garage door remote control. Some solutions use geofences or third party integrations in an attempt to automate the doors, but that approach can be very slow at times, leaving homeowners waiting as long as 10 minutes for the garage door to open. Our goal was to automate a homeowner's garage door as much as possible while keeping safety, security, and convenience in mind. A smart home should know exactly when you want your garage door to open, and when it should be closed – and just make it happen", said Scott Riesebosch, president of Tailwind.
The iQ3 works with most ordinary garage door openers and can control up to 3 doors. It works with Amazon Alexa, Google Home, IFTTT, with more features and integrations coming soon.
The unique Night Mode feature closes garage doors automatically at night, but unlike other solutions, it makes sure they will stay closed. Other features include a history log, unlimited multi-user management, notification management, audible and visual alarms, and more.
The Tailwind iQ3 is shipping now and is available at http://www.gotailwind.com. Pricing starts at $89.99 and kits are available for 1 to 3 door garages.
About Tailwind
Tailwind is a technology company based in Niagara Falls, Ontario, Canada. The company's primary business activities are the design and manufacturing of wirelessly connected products serving the consumer, industrial, and commercial markets.
Contact Details
Company: Tailwind
Media Contact: Scott Riesebosch, President, Tailwind
Email: scottr(at)gotailwind(dot)com
Phone: 905-658-2500
Website: http://www.gotailwind.com