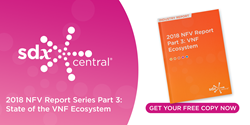 Solutions like SD-WAN/vCPE and vRAN/cRAN that can dramatically reduce the cost for an operator while giving them flexibility are gaining attention from CSPs and vendors alike.
SAN FRANCISCO (PRWEB) May 29, 2018
SDxCentral.com announces the availability of a new report: The 2018 NFV Report Series Part III: State of the VNF Ecosystem.
This third and final report in the series follows the successful launch of parts I and II covering NFV Infrastructure (NFVI), hypervisors, Virtualized Infrastructure Managers (VIMs), and the management and orchestration (MANO) necessary to deploy VNFs (virtual network functions). Parts I and II have seen a combined download of over 3,500 copies since the publication in mid-April 2018 of the first report, with broad readership including key decision-makers from top-tier Communication Service Providers (CSPs) worldwide.
The VNF report focuses on leading VNF solutions that are purpose-built as SDx solutions and deployed on NFV infrastructure. CSPs and vendors have been working hard to build out new VNFs and enhancing existing ones while taking advantage of underlying capabilities in the NFVI and hardware where appropriate. As they move forward rapidly, new challenges have developed including the emergence of isolated VNF islands, difficulty in VNF on-boarding, and complexity in VNF workload placement. Despite these challenges, solutions like SD-WAN (software-defined wide area networking)/vCPE (virtual customer premise equipment) and vRAN/c-RAN (virtual and cloud radio access networks) that can dramatically reduce the cost for an operator while giving them flexibility are gaining attention from CSPs and vendors alike.
Key trends covered in the report include VNF and VNFCs (VNF components) and their relationship to software-defined networks (SDNs) and network virtualization (NV), role of DevOps and Ci/CD, leading VNF/VNFC use cases and deployment scenarios, and VNF management platforms and architectures.
The report also includes results from a survey conducted by SDxCentral's research team with select members of the SDxCentral community. This report is complimentary and available for download at SDxCentral.com. Vendors interested in participating in future versions of this report or other reports published by SDxCentral.com can contact us at https://www.sdxcentral.com/inquiry/research/.
Table of Contents
Executive Summary
Introduction
A Quick VNF Primer – The Virtualization Framework
-VNFs in VMs and Containers
-VNF Relationship to Software-Defined Networks (SDN)
-NFV VNFs and the ETSI
VNFs and NFV Advantages to Businesses – Myths and Reality
-VNFs Help Drive Agility
-Do VNFs Lower Cost?
-Preventing Lock-In with VNF Marketplaces
VNFs Power Top NFV Use Cases
-Real-World Carrier Deployments of VNFs
VNF Major Challenges – VNF Onboarding and Monitoring
-VNF Onboarding
-VNF Monitoring
Other Challenges with VNFs
-Curse of the Fake VNFs
-VNF and Licensing—Still a Work in Progress
-VNF Performance—Value of HW acceleration
-Chaining VNFs—Missing links
-Generic VNFMs—Pipe-dream or Reality
-Performance Characterization—Whose Job Is It
Key VNF and NFV Market Trends in 2018
-Consolidation of Player—M&A Continues to Roll
-Large Players Disintegrated with Key Software Assets (VNFs) Acquired
-NFV Players Grow Revenue After Years of Investments and False Starts
-Net-Neutrality and Impact on the VNF market
-Network-As-A-Service (NaaS) becomes Real
-DevOps and NFV
-Going Beyond Day 0 and Day 1 Operations to Day 'N' and Hyper-optimization
-Sophistication in VNF Workload Placement
-Mitigating NFV Islands Caused by VNFs
-More Self-service, Self-diagnosis, Self-remediation
NFV Survey Results: VNF Report
-VNF Deployments
-Top NFV Use Cases
-Lessons Learned in NFV Deployments
-NFV Plans for the Future
Conclusion – VNFs and NFV Power On
2018 VNF Report Products
Covered Companies and Organizations
6WIND, A10 Networks, Affirmed Networks, Airpsan, Alianza, Inc., Altiostar, AT&T, Avi Networks, CA Technologies, Cisco Systems, Enea, Qosmos Division, Ericsson, F5, Fortinet, Ixia, Juniper Networks, Metaswitch Networks, NEC, netElastic, NFWare, Nokia, Nuage Networks, Openwave Mobility, Palo Alto Networks, Pulse Secure, Radisys, Ribbon Communications, Silver Peak Systems, Telco Systems, Versa Networks
About SDxCentral
Launched in 2012, SDxCentral.com is the fastest-growing and leading B2B digital media company for Cloud, Enterprise, and Telecom IT Infrastructure. SDxCentral serves an audience of over 200,000 unique monthly site visitors generating over half-a-million page views a month. The site provides cutting-edge coverage of software-defined infrastructure including 5G, IoT, Edge Computing, SDN, NFV, Cloud, Containers, Security and AI/Machine Learning and connects technology buyers with clients in the most effective way. SDxCentral's client list reads like the who's who of technology infrastructure, ranging from leading Fortune 50 companies to rapidly growing startups looking to revolutionize software infrastructure.