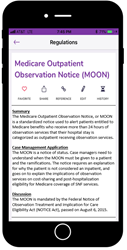 ACMA continually strives to respond to the needs of our members and provide them with the tools they need in the most effective and convenient way possible.
(PRWEB) May 23, 2018
The American Case Management Association (ACMA) announces the launch of a new mobile app for members. The first module on this new platform is a web-based library of regulatory information. This coincides with ACMA continued mission of supporting the effectiveness of case management and transitions of care with educational and professional development resources.
Case management professionals are daily responsible for compliance with a wide range of regulatory requirements. These professionals need quick access to regulatory data and compliance standards, which are often a small section of much larger regulatory documents or laws. This regulatory landscape can change quickly, both with new regulations and as health care organizations find the best way to comply with these regulations.
ACMA also recognizes the pace of care delivery, and how professionals providing case management and transitions of care services to patients are often away from their desks and computers. Placing this new library of regulatory information on a mobile platform helps in getting the right information into their hands whenever and wherever they need it: such as in a meeting with hospital administration, in a patient care conference, or reviewing a case with a physician or payer.
A unique quality of this new service is that ACMA members – the practitioners responsible for implementation compliance with regulations – can contribute directly to the knowledge base. Users can contribute to the discussion related to each regulation by commenting. They can also suggest an addition to the library or an edit to the information on an existing regulation, both of which are then screened and approved by ACMA's group of subject matter experts who oversee and approve all content submissions to ensure the integrity and quality of the content. This allows the community to enhance and expand the library of information.
"ACMA continually strives to respond to the needs of our members and provide them with the tools they need in the most effective and convenient way possible," said Randall Archer, Vice President of Business Development at ACMA. "The app's model of open access and editing – with approval by subject matter experts – derives from the value that ACMA members find in networking with and learning from each other to help solve some of their most difficult problems."
The ACMA Mobile App is available on the Apple app store (iPhone) and Google Play (for Android devices) for ACMA members only at no charge. To become an ACMA member and take advantage of all the benefits available, visit the ACMA website for an online application or call 501-907-2262.
About ACMA:
Founded in 1999, the American Case Management Association (ACMA) is a national, non-profit, professional membership association, which strives to provide resources, solutions and support for Case Management and Transitions of Care professionals. ACMA is comprised of more than 8,000 members nationwide, including nurses, social workers, physicians and other professionals affiliated with case management. Through a variety of educational conferences and networking events at both the state and national level, ACMA provides its members with numerous opportunities to develop their skills, grow in their profession and learn from the experiences and practices of fellow members. For more information, visit http://www.acmaweb.org.