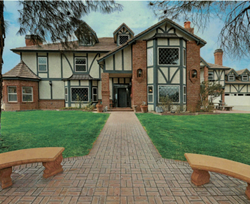 The therapeutic benefits of a serene country setting are hard to overstate.
LAKE HUGHES, Calif. (PRWEB) May 25, 2018
Lake Hughes Recovery Center (LHRC), a men-only inpatient facility for the treatment of substance abuse nestled in the foothills of the Angeles National Forest, will more than triple its capacity later this year. Its recent acquisition of a nearly 7,000 square-foot home on 1,100 rural acres in northwest Los Angeles County will make room for 20 patients, whereas its current capacity is just six.
The current 37-acre facility is already the largest rehab campus in California. Resort-like amenities such as a private lake for fishing, beautiful hiking trails, paired with a tranquil location appeal greatly to their growing client base, while myriad outdoor activities help create a unique experience for recovering addicts.
Austin Gillespie, LHRC director, said the expansion will help further distinguish it from other facilities in the area while meeting new demand.
"The therapeutic benefits of a serene country setting are hard to overstate," Gillespie said. "Much of our work is aimed at creating psychological distance between patients and the situations that fuel addiction. Our facilities create some physical distance as well, yet still are convenient to the primary areas we serve. That means better long-term outcomes for our patients and a very compelling story for area addicts seeking treatment."
Inpatient rehab is an intensive process meant to remove patients from the context of their addiction. A program of group therapy, individualized therapy, treatment of co-occurring mental health disorders, and practical techniques for challenges like stress management helps addicts overcome the mental and physical barriers to recovery. That intensity is offset by relaxing distractions like equine therapy, fishing, hiking, and yoga in a safe and supportive environment.
"We're passionate about what we do at LHRC and are proud of our success rate," Gillespie added. "The opportunity to turn an already world-class facility into one of the largest and most comprehensive in North America is one we relish. We look forward to helping many more addicts find their way back to a happy, healthy lifestyle."
The expansion should be complete by late 2018.
About Lake Hughes Recovery Center
Lake Hughes Recovery Center is a men-only inpatient rehab facility in northwest L.A. County. Our board-certified, licensed staff helps individuals who struggle with substance abuse, alcohol addiction, and mental health in a serene rural setting with unique activities. For more information, visit http://www.lakehughesrecovery.com.