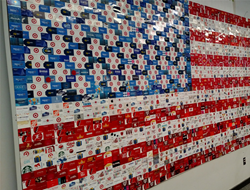 The ability to use company resources to honor America and its veterans has united all of our employees and brought the spirit of Memorial Day to our office
BRICK N.J. (PRWEB) May 24, 2018
In honor of Memorial Day, CardCash, the largest gift card exchange in the world, put their used gift cards to work in a giant American Flag made completely out of gift cards. The cards are arranged in a collage format and form the flag using the actual gift card designs and colors.
CardCash's employees worked for a week on the flag, sorting through their massive stockpile of used gift cards for red white and blue cards. "The biggest challenge has definitely been finding the right cards for this project within our extensive card collection," said Steven Weldler, VP of Marketing for CardCash. "However, this has been one of the most rewarding projects we've ever completed. The ability to use company resources to honor America and its veterans has united all of our employees and brought the spirit of Memorial Day to our office."
The flag is composed of 2,223 gift cards from numerous different brands. Some that stand out are Target, Walmart, Best Buy, and TJ Maxx, brands whose cards often include the necessary colors for an undertaking of this nature. CardCash believes this may be the largest gift card flag ever created.
"The CardCash team is simply amazing and projects like this one illustrate that," Elliot Bohm, CEO of CardCash, said Wednesday. "The team wanted to do something to honor our country and veterans and I think that goes to the heart of who we are at CardCash and what we stand for."
The gift cards used are cards that were purchased for resale by CardCash, converted into ecodes, and subsequently sold online, rendering the physical card unnecessary. CardCash stores the cards in case they are needed by the purchasing customer, but eventually discards or repurposes them.
With the gift card industry shifting to digital and mobile gift cards, CardCash has had to stockpile unnecessary physical gift cards. With the change from physical plastic cards, to email delivery of online ecodes, CardCash now delivers almost all of its cards by email and through its gift card mobile app. This industry adjustment allows for faster card delivery, offers multi-platform ease of use, and allows CardCash to use the unnecessary plastic cards in projects such as this one.
CardCash sells unwanted gift cards at a discount to consumers who can use them to help everyone save money on everything they buy. CardCash's discounted gift cards are available online at http://www.cardcash.com and through the CardCash app.