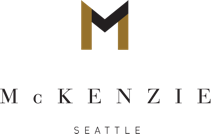 (PRWEB) May 24, 2018
McKenzie, a 40-story luxury apartment tower with 450 homes developed by Clise Properties, revels in an interior design developed by leading Seattle design firm, Susan Marinello Interiors, Inc. The design focuses on amplifying the unique reflectivity and light that is ever present in the Pacific Northwest.
"When creating the design concept for McKenzie, we focused in on the natural resources of our region that makes this such a sought after place to live, work and play," said Susan Marinello, principal and design director of Susan Marinello Interiors, Inc. "There's a glorious moment in the Pacific Northwest right after a rain storm where there are periods of darkness, but also intense brightness as light tries to make its way through the clouds. This moment was the crux of our design for McKenzie. Our goal was how can we make that significant moment come to life and show off the reflectivity of McKenzie and bring it to life in an elegant way."
McKenzie was designed to feel like a luxury condo or hotel to serve the needs of individuals looking for a place to call home in the heart of downtown Seattle. The interior design is focused on creating luxury touches that increase the quality of life for McKenzie residents through the curated materials and lighting.
Central interior design elements of McKenzie include:

A design palate in common areas on each floor that transitions from dark to light, highlighting the passing Pacific Northwest storm feeling of reflectivity.
Hand-woven carpeting in each elevator lobby specifically created for McKenzie.
A Silver Travertine wall feature on the ground floor sourced from Sienna, Italy.
An LED light wall on the ground floor that twinkles to welcome residents to their homes each day.
McKenzie's luxury appearance is designed to help its residents adapt to urban living and focus on the great on-site amenities as well as the countless opportunities just outside the door in South Lake Union and in downtown Seattle. The distinct elliptical design provides expansive 360-degree floor-to-ceiling views of Lake Union, the Olympic and Cascade Mountains and downtown Seattle.
Stand-out amenities at McKenzie include:
40th floor features 360-degree wrap-around deck, a great room with Puget Sound views & fireplace, multimedia entertainment lounge and private dining room
40th floor pet spa and grooming space that is one-of-a-kind for the four-legged residents in the building
39th floor fitness center
Yoga room with on-demand Wellbeats fitness technology
8-person spa tub, steam room and sauna
24/7 concierge service
Natural gas fireplaces, high-end appliances, air conditioning and California Closets
Controlled access entry, bike access and underground parking
Seattle's iconic Wild Ginger on the ground floor, offering room service to residents during operating hours
Urban Living Tips – Creating Your Perfect Downtown Space
Designer Marinello says that creating a welcoming and luxurious space within your apartment home is just as important as the aesthetics of the building.
"My hope is that McKenzie residents will take the interior design we've created and use it as an opportunity to accentuate the luxury in their own lives," said Marinello.
Her top three recommendations:
Aim to live more with less – pair down your furniture and pieces to a few key items.
Splurge on a few select items – look for a few key items that will accentuate and enhance your living style and splurge on those, rather than over-designing the space.
Thoughtful design can improve your quality of life – the items in your home don't need to be the most expensive to create a comfortable, luxurious and harmonious home. If they add value to your life and are of high quality or significant meaning, then they will bring luxury to your space.
McKenzie offers studio, one, two and three-bedroom options, as well as Club Level and Penthouse homes for the ultimate downtown luxury experience. For more information or to schedule a tour, contact McKenzie at (206) 823-2781 or via email at leasing@mckenzieseattle.com.
###
About McKenzie
McKenzie is the premiere luxury apartment residence for individuals looking for downtown Seattle, urban living with prominent amenities. Developed by Clise Properties, the building is located at 2202 Eighth Avenue. McKenzie is a 40-story elliptical tower with 450 impeccably designed apartment homes ranging from studio, one, two and three-bedroom options to Club Level and Penthouse apartments for the ultimate in luxury experiences. For more information about McKenzie visit http://www.mckenzieseattle.com or join the conversation online at Facebook and Instagram.