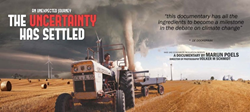 After calling journalists for reviews they simply refused. The story – according to them – was too confusing to the public during a time when 'climate change was under pressure' and populism was on the rise. They called it their 'journalistic responsibility' not to give it any positive attention...
CALGARY, Alberta (PRWEB) May 24, 2018
Contrary to a push for subservient climate dogma, as outlined by the Global Editors Network in an article on Medium posted May 17, 2018, Friends of Science Society continue to push for inquiry, not compliance, on climate change. To this end, on May 15, 2018, award-winning Dutch filmmaker Marijn Poels and Canadian climate scientist Dr. Madhav Khandekar dismantled the David Suzuki-style climate hysteria in one evening at Friends of Science Society's 15th Annual Event entitled: "Extreme Climate Uncertainty." Poels described his film and efforts to free the climate debate from its paralyzing state of dogma in a personal statement on the Global Warming Policy Foundation site June 14, 2017.
Left-wing, progressive Poels recounted to the Friends of Science event audience how he had worked in conflict and poverty countries for nine years, making 50 films in that time. When he returned home to Europe for some recovery time in the pastoral countryside, he was surprised, then alarmed to find that EU climate and energy policies were trading food security for unreliable, expensive 'energy' security. Curious to find the root of this strange set of policies, Poels followed the money and policy to talk with climate scientists and agricultural experts.
Poels noted that he had a broad-reaching, very supportive media network for his human rights and justice films; this dried up the moment he broached the topic of climate change.
Poels' film can be screened on-demand on VIMEO: vimeo.com/ondemand/theuncertaintyhassettled
Dr. Madhav Khandekar, former Environment Canada researcher, gave a lively, humorous presentation that debunked the claims of extreme weather being more frequent or caused by human influence on climate or human industrial carbon dioxide emissions. Khandekar explained some of the intricacies of the global effects of the natural, cyclical El Nino Southern Oscillation and its mirror image, La Nina. Overall, Khandekar says the only noticeable trends are toward longer cold snaps, a possible harbinger of long periods of cold and erratic weather as experienced in the Little Ice Age, during a solar minimum.
Khandekar was an instructor at the University of Alberta early on in his career, an institution now embroiled in a vigorous public debate about the propriety of conferring an honorary degree on Dr. David Suzuki at this spring's convocation.
Friends of Science Society posted an open letter on their blog on May 9, 2018, addressed to the president of the University of Alberta, expressing their views on the matter.
The David Suzuki Foundation and Dr. Suzuki himself have made exaggerated claims about the Alberta oil sands and human impacts on climate, including running an ad campaign claiming that Santa would drown due to human-caused climate change, as reported in the National Post on Dec. 3, 2011, in an op-ed: "Give us money or Santa gets it."
Friends of Science says climate hysteria has been funded and propagated by the ClimateWorks billionaire philanthropists world-wide as in their "Design to Win" plan. Current climate evidence indicates that carbon dioxide is not the knob that controls climate and that the sun, oceans and orbital patterns affect climate.
About
Friends of Science Society is an independent group of earth, atmospheric and solar scientists, engineers, and citizens who are celebrating its 16th year of offering climate science insights. After a thorough review of a broad spectrum of literature on climate change, Friends of Science Society has concluded that the sun is the main driver of climate change, not carbon dioxide (CO2).
Friends of Science Society
P.O. Box 23167, Mission P.O.
Calgary, Alberta
Canada T2S 3B1
Toll-free Telephone: 1-888-789-9597
Web: friendsofscience.org
E-mail: contact(at)friendsofscience(dot)org
Web: climatechange101.ca