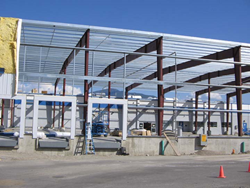 We're a customer service business, and taking care of our clients is what we strive for.
KELOWNA, B.C. (PRWEB) May 24, 2018
A Kelowna company that specializes in pre-engineered steel buildings wants the world to know that it is serious about operating with transparency and integrity. Metal Structure Concepts (MSC) recently underwent a successful application to obtain its Dynamic Seal from the Better Business Bureau (BBB).
The Dynamic Seal demonstrates a company's commitment to operating in good faith, which includes: establishing a positive performance record in the steel building industry; advertising its products and services honestly and accurately; and addressing any disputes with clients quickly and professionally.
In order to obtain the seal, Steve Ivanitz, company owner, worked with a representative from the bureau to ensure that MSC's operating policies and website content aligned with what's expected from the organization. The process also included a review of the company's operating history.
"We've built up a reputation in our industry, and this accreditation is another way of demonstrating that we really value our customer relationships," says Ivanitz, who formed the company in 2002. "We're a customer service business, and taking care of our clients is what we strive for."
Having met the accreditation criteria, MSC can now display the BBB Dynamic Seal on the company website, and on other online marketing materials and platforms, such as Facebook and email. Clients can click the logo, which will link them directly to the business review page on the BBB website. This displays MSC's overall rating (which is currently an A+), any consumer reviews and basic company information.
"Our customers can look us up with a click of a button and verify that we are who we say we are, from a reliable source," says Ivanitz.
While the company is headquartered in Kelowna, MSC designs and erects pre-engineered steel buildings all over Western Canada. In all his time with the company, Ivanitz has never had a dissatisfied customer. It's one of the reasons he enjoys plenty of repeat business and word-of-mouth advertising.
Ivanitz has had clients who've raised concerns over the years, but he's always strived to resolve them. He used Lawrence Meat Packing Co., located in Dawson Creek, as an example. Owner Dan Strasky had the MSC crew erect new offices and cold-storage facility. Sometime after the prefab buildings were complete, Strasky noticed that one of gutter systems had developed a leak.
He called Ivanitz to notify him of the problem, who responded by dispatching a work truck to make the 12-hour journey north to rectify it.
"I had a guy up there within a week. Dan told me: 'I didn't think I'd ever hear from you again,'" says Ivanitz, noting that MSC's three-year, in-house warranty is the best in the business. "Other companies might not have done that because you're out of pocket for fuel, time and wages. But we stick to our word and we take care of our clients for years down the road."
Lawrence Meats later used MSC a second time to build a sausage kitchen and packing facility expansion, and Ivanitz believes the standard of customer service that Strasky experienced with the first project played a large part in his decision.
In his testimonial for MSC, Strasky said: "A big thing that stood out to us was their adaptability to our design/project requirements and requests. Without a doubt, we would most definitely use and recommend MSC."
About Metal Structure Concepts
Since its inception in 2002, MSC has been designing and erecting pre-engineered steel buildings across Western Canada, and beyond. By combining a talented team of in-house designers with highly trained field workers, MSC carries out installations to rigorous standards, guaranteeing a professional product that looks, performs and lasts exactly as intended. MSC creates innovative steel building plans to suit any industry or application, including industrial, commercial, mini-storage, retail, agricultural, and community-multi-purpose.
For more information, contact:
Steven Ivanitz
Owner, Metal Structure Concepts
1-800-979-2993
steve[at]mscsteel[dot]com
http://www.mscsteel.com