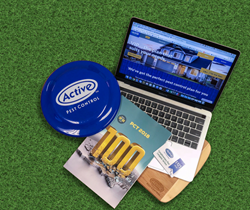 ATLANTA (PRWEB) May 24, 2018
Active Pest Control, a McDonough, Georgia, based pest control provider, today was named to the 2018 PCT Top 100 by PCT Magazine for the sixth year in a row. After a record-breaking year for the company in revenue, Active is ranked as the 43rd largest company in North America, up from 50th in 2017.
Active Pest Control's 2017 revenue growth is attributed to two major factors. First, Active's acquisition of Regency Pest Control in Columbus, Ga., allowed Active to service more people in that growing area. Adding resources in Columbus to Active's expanding footprint brought their total number of offices to 13 in Georgia and Texas. Active also introduced their VIP Service Package which brought in more than 3,000 new customers. The VIP Package is inclusive of all of Active's major offerings including general pest control, mosquito control, and termite control with an industry-best warranty.
"We're always looking at ways to grow our business, grow our company, so that we can ultimately serve more communities," said Tony Carder, CEO of Active Pest Control. "We've been servicing the communities of Georgia and Texas for 32 years now, and we're doing everything we can to ensure that we'll be servicing those same communities 32 years from now."
This year's list includes companies from 30 states and 3 Canadian provinces. Active was one of 5 companies in the Top 50 from the state of Georgia including Rollins, and Arrow Exterminators.
The PCT Top 100 List is based on 2017 revenues. Companies submitted revenues to PCT in January after the close of the 2017 fiscal year.
To learn more about Active Pest Control, visit http://www.activepestcontrol.com
###
About Active Pest Control:
Founded in 1985, McDonough Georgia-based Active Pest Control is one of the largest independent, privately owned, pest control companies in Georgia. The company operates 12 locations in Georgia and Texas offering residential and commercial pest control along with complete termite protection and wildlife exclusions. Active is committed to building relationships with the communities where it does business and is an active sponsor of the NASCAR Camping World Truck Series. To learn more about Active Pest Control, visit http://www.activepestcontrol.com/.