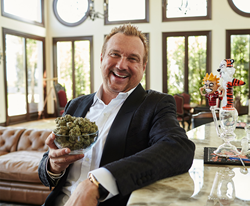 LOS ANGELES (PRWEB) May 24, 2018
In response to New York City Mayor Bill de Blasio's recent order for police to issue summonses for public pot smoking in lieu of making arrests, Michael ''BigMike'' Straumietis, world renowned cannabis expert and founder of Advanced Nutrients, said, "I commend Mayor de Blasio on his bold action and look forward to a bright future for cannabis in NYC."
This call to action comes after Manhattan District Attorney Cy Vance Jr. said he would end prosecution of marijuana possession and smoking cases, starting in August.
"The war against cannabis has been a demonstrable failure — one that's led to the incarceration of millions of people whose only crime was possessing a naturally growing plant," BigMike continues.
The NYPD has already set up a working group to review its marijuana enforcement procedures that would end marijuana smoking arrests.
"It's time that our elected leaders start acknowledging the will of the people as well as the science that has shown all the medical benefits to be derived from legal cannabis," BigMike contends.
Although the new procedures are imminent, any changes to NYPD's policy on smoking marijuana in public would not take effect until the end of the summer.
"Though the ultimate goal is 100-percent legalization, this is at least a step in the right direction — and hopefully one that will encourage other elected officials to reconsider their positions on enforcement of archaic and draconian cannabis laws," BigMike fervently concludes.