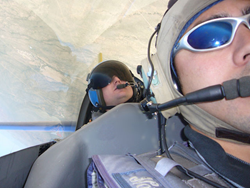 "Training in upset prevention and recovery is critical for pilots to be fully prepared for any unexpected, time-critical flight situation that could occur in-flight..."
MESA, Ariz. (PRWEB) May 24, 2018
Aviation Performance Solutions LLC (APS), a global provider of Upset Prevention & Recovery Training (UPRT), is pleased to award the 2018 Upset Prevention and Recovery Training Scholarship to Jake Ribbe, a student at LeTourneau University.
Jake is working toward a B.S. in Professional Flight, Maintenance Concentration. He currently works as a dispatch manager for LeTourneau University, and he has also recently completed an aviation internship with a major corporation.
Every year, APS offers its UPRT scholarship to a deserving pilot currently in flight school or just starting their professional aviation career. The Professional Pilot Upset Training course provides comprehensive UPRT, integrating academics and on-aircraft instruction to mitigate the risk of Loss of Control-Inflight (LOC-I), the number one cause of fatalities across all sectors of aviation. Properly delivered UPRT compliments certification training by ensuring pilots have a deep understanding of upset causes – with critical focus on prevention – and are trained to proficiency in the often-counterintuitive skills necessary to recover from a developed airplane upset. Moreover, this training greatly improves overall handling skills.
"Training in upset prevention and recovery is critical for pilots to be fully prepared for any unexpected, time-critical flight situation that could occur in-flight," said Paul Ransbury, President of APS. "Providing this yearly scholarship opportunity allows us to give back to the aviation industry and accomplish the core APS purpose: to help pilots bring everyone home safely."
2019 APS Upset Training Scholarship – apply here: http://www.apstraining.com/scholarship/
About Aviation Performance Solutions
Aviation Performance Solutions LLC (APS), headquartered at the Phoenix-Mesa Gateway Airport in Mesa, Arizona, trains thousands of professional pilots and instructors in comprehensive Upset Prevention and Recovery Training skill development. APS provides integrated LOC-I solutions via industry-leading computer-based, on-aircraft (jet and piston), and full-flight simulator Upset Prevention & Recovery Training (UPRT). All training is in full compliance with the Airplane Upset Recovery Training Aid, FAA Advisory Circular 120-109A on Stall Prevention and Recovery Training, ICAO Manual on Aeroplane Upset Prevention and Recovery Training, IATA Guidance Material and Best Practices for the Implementation of Upset Prevention and Recovery Training, and the FAA Advisory Circular 120-111 on Upset Prevention and Recovery Training. APS is the only Part 141 Flight School certified in the delivery of complete upset prevention & recovery, stall/spin and instrument upset recovery training courses worldwide. With additional training locations in Texas (USA), The Netherlands (Europe), and military division in Alabama (USA), APS provides global access to the highest quality Upset Prevention and Recovery Training available. Please visit our website at: apstraining.com