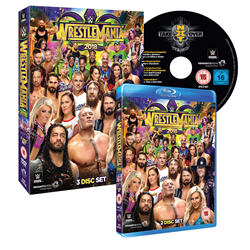 If that wasn't the greatest match outright in NXT history, it was certainly the most dangerous and spectacular. - CBS Sport
NEW ORLEANS (PRWEB) May 29, 2018
Fremantlemedia International (WWE's European Licensee for Home Entertainment) are releasing a world exclusive special collector's edition DVD & Blu-ray for Wrestlemania 34. Featuring former UFC Women's Bantamweight Champion Ronda Rowsey's WWE debut. Added to the annual wrestling 8-hour epic, this special release will also include the highly sought-after NXT TakeOver — New Orleans event on a bonus DVD disc.
NXT (a developmental brand for the WWE) host events that push the boundaries of the live entertainment industry with many new and fearless pro-wrestling talents who are constantly raising the bar to get themselves noticed in sports entertainment.
Every NXT TakeOver show has wowed fans all around the world since its inception in 2014. However, last April's New Orleans event (held one day before Wrestlemania 34) took things to dizzying new heights. With truly fantastic championship matches throughout, it was the NXT North American Championship Ladder Match that had the crowd on their feet chanting "Please don't die, please don't die!". During this death defying match full of unbelievable stunts, bumps and acrobatics, fans were treated to a history making — sports entertainment spectacle.
The full NXT TakeOver – New Orleans event is being released as a bonus DVD and part of the Wrestlemania 34 Special Collector's edition on Monday 4th June 2018. It can be pre-ordered online exclusively through the UK's official store http://www.wwedvd.co.uk. Early pre-orders of the DVD will automatically receive this 4-disc special edition at the same price as the 3-disc standard edition £19.99 + shipping (RRP £29.99) and Blu-ray fans will receive the 3-disc special edition instead of the 2-disc standard version for £23.99 + shipping (RRP £32.99).
Note to editors: For further information about this story or promotional press photos etc, please contact info(at)wwedvd.co.uk