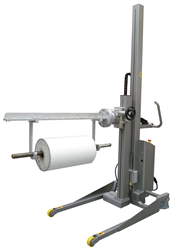 The roll handling lifter with cradle attachment is the ideal solution to increase efficiency and improve health and safety conditions.
KANSAS CITY, Mo. (PRWEB) May 29, 2018
New to Packline, the roll handling equipment with cradle attachment has been designed for the lifting and loading of rolls of film or foil. The lifting attachment securely supports the roll's mandrel or shaft at each end which enables precise loading of the roll into a processing machine from above.
The mandrel, or shaft, supporting hooks can be rotated and cleared from the roll once it is in position, this is controlled by using the handwheel. The hooks can be adjusted to accommodate various roll widths.
The length of the supporting hooks can be designed to suit the application and to avoid obstacles such as guarding.
The attachment is not designed for rotation whilst loaded. Any roll rotation of the hooks only takes place once the roll is in position and supported in its location blocks.
Together these features enable the operator to lift and position rolls with complete confidence and safety.
Used in conjunction with a dual column roll lifting machine, this attachment can safely unload rolls into the side of a production machine at height and with great stability.
This lifting solution is suitable for the food industry, pharmaceuticals and other hygienic applications.
The roll handler has a lifting capacity of up to 220.46lbs (100kg) depending upon model.
The attachment is backed up by a full bespoke design service so ensuring that the right solution can be made to suit most applications.
This stainless steel roll handling equipment is suitable for use in the following industries:

Food
Drinks and Beverages
Dairy
Pharmaceutical
Medical
Chemical
FMCG (Fast Moving Consumer Goods)
The purpose-designed compact framework, positioning of handlebars and addition of an optional remote control device provide improved manoeuvrability and ease of use for the operator.
The small footprint makes this roll handling equipment highly manoeuvrable and a natural choice for today's narrow production lines and demanding lifting requirements.
For further information on the new roll handling equipment with cradle attachment in stainless steel, or the full range of lifting and handling equipment, please contact Packline Materials Handling, or contact Ultrasource LLC in the USA for more information on the 'EZ Lift'.
Packline Ltd
Unit 28
Newtown Business Park
Ringwood Road
Poole, Dorset
BH12 3LL, UK
USA Distributor:
Ultrasource USA LLC
1414 West 29th Street
Kansas City, MO 64108-3604
(O): 816.360.2034 | Ext 2034
http://www.ultrasourceusa.com/
For a full list of worldwide distributors please visit Packline's website.