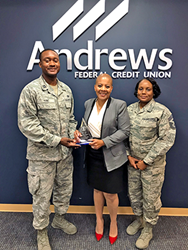 SUITLAND, Md. (PRWEB) May 24, 2018
Andrews Federal Credit Union recently sponsored the 2018 DC National Guard (DCNG) Military Ball, hosted by the 113th Wing DC Air National Guard and DC National Guard. Rosalind Bishop, Regional Manager, was presented with an "Outstanding Support" award from the DC National Guard Military Ball Committee.
This year's ball coincided with the D.C. National Guard's 216th birthday. In 1801, the Seventh Congress authorized the President to organize a militia of the District of Columbia, appoint its officers and call it to service in the same manner as state governors or executives. The law was approved May 3, 1802 with President Thomas Jefferson personally selecting the first officers of the unit. The ball's theme was, "Readiness then and now, remembering DCNG WWI veterans." The theme served to recognize the D.C. National Guard's First Separate Battalion.
"These brave men and women defend the nation's capital, and our nation at-large," said Bishop. "It is an honor to support them in any way possible. Their recognition of our support is truly humbling."
About Andrews Federal Credit Union
Andrews Federal Credit Union was founded in 1948 to serve the needs of military and civilian personnel by providing a vast array of financial products and services. With over $1.5 billion in assets, Andrews Federal has grown to serve more than 120,000 members in the District of Columbia, Joint Base Andrews (MD), Springfield, Virginia (VA), Joint Base McGuire-Dix-Lakehurst (NJ), and military installations in central Germany, Belgium, and the Netherlands. In addition, the Credit Union serves as a financial partner with many select employee groups in Maryland, the District of Columbia, Virginia and New Jersey.
To learn more about Andrews Federal Credit Union and its community involvement, or to become a member, call 800.487.5500 or visit http://www.andrewsfcu.org.