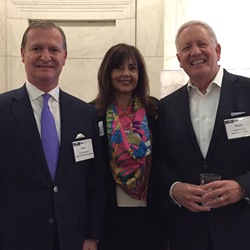 BOSTON (PRWEB) May 24, 2018
Keystone Partners recently hosted senior HR leaders from Boston metro organizations for a fabulous night at the historic Boston Custom House in McKinley Square. In addition to networking among peers, guests were treated to tours of the clock tower and breath-taking views from the 26th floor observation deck.
Keystone is a leading talent management and career transition services consulting firm. The Company is comprised of three divisions: Keystone Associates, Essex Partners and Camden Consulting Group.
"We are always happy to make connections for our clients," said Elaine Varelas, Managing Partner of Keystone Partners, "having everyone in one location facilitated immediate introductions. As one client said at the end of the evening, 'I met people I've shared a universe with but had never really spoken with, from organizations I deeply admire.'"
The energy and buzz in the room were palpable as guests engaged in discussions about corporate culture, the impact of companies moving into Boston, and technology trends in HR.
"We are honored to work with so many leading Boston organizations" said Ralph Roberto, President of Keystone Partners. "It is inspiring to partner with the best talent in the industry, allowing us to deliver innovative services to employers in the Northeast and globally through Career Partners International."
About Keystone Partners
Keystone Partners is a leading career management and leadership development consulting firm headquartered in Boston, Massachusetts. Keystone works with organizations in New England, the Research Triangle, and around the world to efficiently and effectively address their career management and development needs.
Keystone Partners' divisions include Keystone Associates, which provides comprehensive career management services through executive level; Essex Partners, a premier career consultancy exclusively for senior executives; and Camden Consulting Group, leadership and talent management experts who help leaders and their organizations learn, develop, grow and thrive. Keystone Partners is also a founding partner of Career Partners International. For more information, please visit http://www.keystonepartners.com.
About Career Partners International
Founded in 1987, Career Partners International is a leading provider of Outplacement, Career Management, Executive Coaching and Leadership Development services from more than 300 offices in over 45 countries. Employers around the world trust Career Partners International's local market experts to provide the best possible outcomes for employees across Canada, the United States, Latin America, Europe, Middle East and Africa, and Asia Pacific regions. Keystone Partners represents Career Partners International in New England and the Research Triangle. http://www.cpiworld.com/