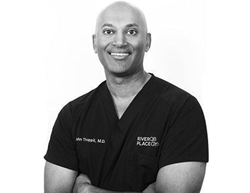 The application of radiofrequency (RF) to resolve problems involving vaginal dryness and irritation, vaginal laxity, pain during intercourse and even urinary incontinence is so far proving successful in patients.
AUSTIN, Texas (PRWEB) May 30, 2018
Does your special area feel a little different? For women struggling with vaginal issues in their postpartum or postmenopausal phase, a touch of radiofrequency (RF) energy may be all that's needed – and just what the doctor ordered.
Considered a "trendy catch-all" term by some health professionals, "vaginal rejuvenation" refers to a host of female health issues, ranging from vulvovaginal problems to vaginal laxity, sexual dysfunction, prolapse (collapse of the vaginal walls), pelvic-floor troubles and even the aesthetic look of the vulva. Many of the problems are due to vaginal childbirth, which stretches the vagina and causes laxity, and the onset of menopause when estrogen levels decline, triggering vaginal atrophy – a thinning, drying out and inflammation of the vaginal walls.
"Nonsurgical approaches to vaginal rejuvenation still represent an 'evolving field' of medicine, but application of radiofrequency (RF) to resolve problems involving vaginal dryness and irritation, vaginal laxity, pain during intercourse and even urinary incontinence is so far proving successful in patients," says Texas-based obstetrician-gynecologist John Thoppil, MD.
Dr. Thoppil, of River Place Ob/Gyn in Austin, TX, is using an RF system developed by Viveve Medical Inc. to treat vaginal-related issues. An earlier clinical study, published in 2017 in the Journal of Sexual Medicine, indicates the device's effectiveness in treating vaginal laxity through stimulation of the body's natural production of collagen and formation of elastin fiber.
"The additional collagen can improve vaginal tone, increase vaginal lubrication and promote heightened vaginal sensitivity, thereby enhancing sexual intimacy," Dr. Thoppil explains. "Radiofrequency also appears to potentially correct urinary leakage."
A second clinical study – this one examining the Viveve device's safety and efficacy in women who experience diminished sexual function after childbirth -- is scheduled to start soon (in 2018).
Authors of research published earlier this year (2018) conclude that, based on "clinical experience," non-surgical, energy-based options, such as RF and laser therapy, seemingly serve as effective treatment approaches for patients with "mild-to-moderate" medical issues, but that "more robust" studies of these devices are needed.
The University of Texas Southwestern Medical Center is answering that call. It has been recruiting 100 patients to continue evaluating the efficacy of radiofrequency, as well as the hybrid fractional laser, another nonsurgical device, for treating vulvovaginal symptoms and vaginal laxity.
Dr. Thoppil, meanwhile, strongly encourages women with vulvovaginal problems to seek the advice of gynecologists. That's because problems with a woman's external genital area, called the vulva, are often linked to other pelvic troubles, including prolapse, urinary urgency and incontinence, he says.
"Unlike other physicians, such as plastic surgeons and dermatologists, the gynecologist specializes in the female anatomy, treating problems of the pelvic floor. He or she can conduct the necessary examination of the pelvic area and consult with the patient about next best steps," he emphasizes.
Dr. Thoppil refers to numbers in a recent survey by the North American Menopause Society. Fifty-one percent of the 358 postmenopausal respondents indicated they experienced such vulvovaginal symptoms as dryness, burning sensation and irritation. Forty percent of those with symptoms said the problems affected them emotionally, and fully a third indicated their lifestyle was impacted. Yet, most troubling, he says, was the 33 percent of symptomatic women who reported not having seen a gynecologist in at least two years prior to the survey.
Reconstructive surgery may be advised for women requiring more extensive rejuvenation to improve pelvic and vaginal function. Dr. Thoppil, however, and his counterparts in the American College of Obstetricians and Gynecologist remain cautious about the value of cosmetic vaginal surgery, which is intended simply to change the aesthetics of the vaginal anatomy – not correct any functional problems.
As reported by WebMD, obstetrician-gynecologists are concerned about the risks involved in cosmetic vaginal procedures and the lack of study data supporting their effectiveness, Dr. Thoppil says.
Although for many women vaginal issues may be inevitable, Dr. Thoppil says women can take steps to relieve – even minimize or prevent – symptoms. He recommends patients:

Stop smoking. Smoking weakens vaginal tissues.
Talk to a physician, physical therapist or exercise physiologist about exercises to strengthen the pelvic-floor muscles.
Avoid lifting heavy objects or other activities causing strain.
Lose extra pounds.
With advice of a physician, consider over-the-counter creams and lubricants that can restore moisture to the vagina and reduce or eliminate pain during intercourse.
Bio: John Thoppil, MD, leads River Place Obstetrics and Gynecology in Austin, Texas. A board-certified obstetrician-gynecologist and a Fellow of the American College of Obstetricians and Gynecologists, Dr. Thoppil also is an assistant professor at Texas A&M University College of Medicine and the president elect of the Texas Association of Obstetricians and Gynecologists. http://www.riverplaceobg.com