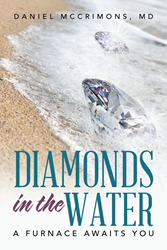 SACRAMENTO (PRWEB) June 04, 2018
As the debut book of author Daniel McCrimons, MD, "Diamonds in the Water: A Furnace Awaits You" is a work of historical fiction that explores the life of Windsor Langford Waterbury III, born in 1901 into a wealthy and privileged New York family and trained to become an empathetic and worldly respected physician.
His multi-generational wealth, professional status, physical presence, and instilled ethical standard would appear to give him the "perfect" life, but appearances do not portray the full picture. Among the many difficult life challenges, Windsor was dealt a shocking secret about his revered grandfather's identity in 1965 as well as a previous family-induced scheme that ultimately altered his bright future. Throughout his story, despite those adversarial and emotional setbacks, Windsor remains standing and resolved.
"I was given a vision to write a life story during a sermon at church about 25 years ago," said McCrimons. "I wrote bits and pieces over the next ten years and was introduced to a history professor who listened to my storyline and was instrumental in helping me put the full version together."
"Diamonds in the Water" presents a comprehensive message that distinct, spiritually bounded people are like the world's rarest diamonds—resilient, unalterable, and priceless.
"Diamonds in the Water: A Furnace Awaits You"
By Daniel McCrimons, MD
ISBN: 9781504388764 (softcover); 9781504388771 (hardcover); 9781504389099 (eBook)
Available at the Balboa Press Online Bookstore, Amazon and Barnes & Noble
About the author
Daniel McCrimons, MD is a Harvard College and Columbia University trained pediatrician who has a passion for blending his 35 years of clinical experience with family values, science, and spirituality to create stories that encourage self-improvement. He currently resides in Sacramento, California. "Diamonds in the Water" is his first book.
###
General Inquiries:
LAVIDGE – Phoenix
Bryan Beach
480-306-6554
bbeach(at)lavidge(dot)com
Review Copies & Interview Requests:
LAVIDGE – Phoenix
Kiersten Woglom
480-998-2600 x 586
kwoglom(at)lavidge(dot)com