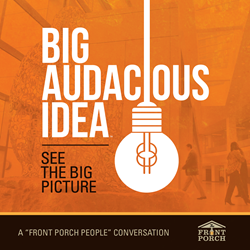 It's been a real privilege to explore such deep topics with thought-leaders the likes of Seth Godin and Gordana Biernat...
CLEVELAND, Ohio (PRWEB) May 25, 2018
The Front Porch Media Network ("Front Porch") is launching its newest podcast Big Audacious Idea. If you are one of those people who likes to question everything… then this podcast is for you! Is reincarnation real? Is cryptocurrency just a trend? Will today's technology steer us into a Renaissance or a Dark Age? Can time move backwards? Are we all connected? The show will dive into the "shower thoughts" of one's mind with 35 minutes of big-name interviews, masterful storytelling and compelling podcast conversation. Big Audacious is the largest investment made into a podcast by Front Porch Media in the company's history.
Fresh off the Front Porch: Listen to the Big Audacious Idea TEASER
"The answers we seek are dependent on the questions we ask," says host, Craig James, Managing Partner & Co-Founder of the executive coaching firm, Cat-Strat Services. "For the human race to constructively progress to the next level, we need to once again beg the questions the ancients asked many years ago about life, reality, time and space. It's been a real privilege to explore such deep topics with thought-leaders the likes of Seth Godin and Gordana Biernat—and it's been mind-expanding to imagine the big ideas of the future with technologists such as Aaron Frank from Singularity University."
About Big Audacious Idea: See the Big Picture
Big Audacious Idea is a podcast for listeners who think boldly and beyond conventional perception. Host Craig James meets with many of today's most provocative thinkers to explore the meta-questions of life. Its 35 minutes of deep and thoughtful discussion guaranteed to feed the curious nature of your mind. Each episode features "mind giants" like Seth Godin or Alan Burdick who examine what it means to be human, asking the questions that will lead to new discoveries for humankind.
Listen to Big Audacious Idea for the questions that will spark the big ideas of tomorrow. Big Audacious Idea will debut on May 30th!
About The Front Porch People
The Front Porch Media Network, LLC ("Front Porch") is a podcast production company and radio syndication network. Based in Cleveland, Ohio and led by a team of knowledgeable executives, supported by rock-star talent, and backed by experienced production and broadcasting professionals, Front Porch Media is committed to bringing premium content to people wherever they are.
Our Mission
To produce and distribute high quality storytelling that entertains, inspires and delights the intellectually curious and highly engaged listeners across digital, mobile and terrestrial broadcast platforms.
For more information about The Front Porch Media Network visit thefrontporchpeople.com or find them on:
iTunes: https://itunes.apple.com/us/artist/the-front-porch-people/1269391518?mt=2
Facebook: https://www.facebook.com/thefrontporchpeople
Twitter: https://twitter.com/Front_Porch_Ppl