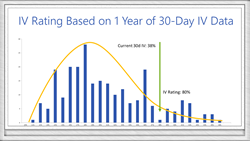 "Option investors use a variety of tools and data points to try to figure out where implied volatility is going," said Ed Kaim, CEO at Quantcha. "Our new Quantcha Volatility Rating cuts to the chase by digesting market sentiment down to a single rating."
REDMOND, Wash. (PRWEB) May 29, 2018
Quantcha today announced the availability of three new proprietary metrics designed to help solve the most common challenges faced by option investors. These metrics are easy to understand, easy to use, and easy to track over time.
Quantcha Volatility Rating™ (IV Rating)
Investors have long used IV Rank and IV Percentile to understand the relative valuation of the implied volatility of a given stock. While these metrics are useful in articulating the relative range and density of a stock's historical implied volatility, they don't provide what investors are really looking for—a clear-cut projection of the probability the implied volatility will drop in the near-term. With the Quantcha Volatility Rating™ (also known as IV Rating), investors can now construct a complete model of the valuation of the current implied volatility.
"Option investors use a variety of tools and data points to try to figure out where implied volatility is going," said Ed Kaim, CEO at Quantcha. "Our new Quantcha Volatility Rating cuts to the chase by digesting market sentiment down to a single rating."
Every option investor recognizes how important earnings announcements are to their holdings. Implied volatility increases leading into an announcement, driving up the prices of post-earnings options. Once the earnings uncertainty is revealed, implied volatility immediately drops to a new level, which is commonly known as the "implied volatility crush". Being able to identify opportunities where implied volatility is too rich or too cheap leading into earnings can provide unique opportunities to capitalize off of the post-earnings IV crush (or lack thereof). With the Quantcha Earnings Crush Rate™, investors can immediately understand how the market is pricing post-earnings options for a given stock so that they can make their own plays on it.
"Whether you're playing for profit or just trying to protect your portfolio, earnings announcements bring a great deal of risk," said Kaim. "Our Earnings Crush Rate makes it easy to understand how the market is pricing the post-earnings crush so you can plan accordingly."
Quantcha Options Liquidity Rating™
There are thousands of optionable US equities available for investment. Unfortunately, the ability to efficiently enter and exit option trades can be challenging due to varying levels of option liquidity on any given stock. As investors and tool vendors develop more sophisticated screening tools to find great opportunities, there is a real need to be able to refine search results by the relative liquidity of their options. With the Quantcha Options Liquidity Rating™, every optionable stock is distilled down to a simple 1-5 scale that can be easily plugged in to any platform to find the trade candidates with the best option liquidity.
"It can be very frustrating for investors to screen the universe of optionable stocks for their ideal criteria only to discover that their results are virtually untradeable due to poor option liquidity," said Kaim. "Our Options Liquidity Rating makes it as easy as possible to build screeners and other tools that ensure your results provide options you actually want to trade."
In addition to being deeply integrated within Quantcha's own tools at https://quantcha.com, virtually all of Quantcha's data is available via API. The Quantcha US Equity Option Ratings database joins Quantcha's other databases that include historical and implied volatilities, put/call ratios, option breakevens, forward prices, betas, correlations, risk decompositions, and other essential data products. More about Quantcha's data and API offerings at https://quantcha.com/DataAndApi. For an in-depth review of the Quantcha data API and the Quantcha Option Ratings database, please see the video series.
About Quantcha.
Quantcha, Inc. is based in Redmond, WA, and was founded in 2014 with the goal of delivering high quality tools for searching, filtering, and analyzing stock market investments. For more information, please visit https://quantcha.com.
# # #
If you would like more information about this topic, please email hello(at)quantcha(dot)com.