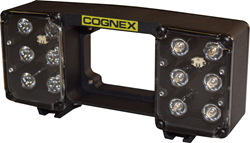 MUSKEGON, Mich. (PRWEB) May 24, 2018
Smart Vision Lights, a leading designer and manufacturer of high-brightness LED lights for industrial applications, is pleased to introduce the ODDM-3XT OverDriveTM light module for Cognex cameras.
Engineered specifically for Cognex DataMan bar coding systems, the ODDM-3XT mounts directly to multiple Cognex cameras and supports the laser aimer accessories for quick, intuitive alignment. It features 12 high-intensity OverDriveTM LEDs — available in either standard or wide projection — with an integrated high-pulse driver for complete control. Powered directly by external light controls, the ODDM-3XT matches the strobe speeds of the specific Cognex camera to which it is mounted.
To facilitate fast, flexible integration, the module also features standard T-slots, an optional linear polarizer kit, and a 5-pin M12 connector. With an operating temperature of -18° to 40° C; an IP65 rating; and CE, RoHS, and IEC 62471 compliance, the ODDM-3XT can safely operate in a variety of production and testing environments.
Smart Vision Lights' ODDM series of lights is available for various models of Cognex DataMan cameras. Featuring a similar set of 12 OverDriveTM LEDs, the ODDM matches the maximum scanning specifications of DataMan cameras with speeds of up to 1,000 strobes per second.
More information about the ODDM-3XT, ODDM, and other products for the Cognex DataMan series of cameras is available at http://smartvisionlights.com/cognex/oddm-light.
About Smart Vision Lights
Smart Vision Lights (Muskegon, Mich.) is a leading designer and manufacturer of high-brightness LED lights for industrial applications, including machine vision. Smart Vision Lights products come with universal internal current-control drivers, offering constant or strobed operation, reduced wiring requirements, and easy installation. Smart Vision Lights products are also the safest on the market thanks to the company's in-house IEC 62741 light-testing laboratory, guaranteeing conformity and compliance for your lighting systems, regardless of where they are installed around the globe. Learn more at SmartVisionLights.com or by calling (231) 722-1199 in the U.S.