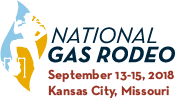 It is a privilege to work with [Spire] on this fine event."
BLOOMINGTON, Minn. (PRWEB) May 25, 2018
MEA Energy Association (MEA) is pleased to announce that Spire is hosting the 2018 and 2019 National Gas Rodeo in Kansas City, Missouri. This three-day event promotes the skills and team work of the men and women working in the natural gas delivery industry. The team-based competitions build leadership and enhance company morale. Activities focus on safe, time-efficient performance of job skills.
"This is another wonderful partnership between the National Gas Rodeo and the natural gas industry," said John Gann, program services vice president of MEA. "Spire is a top-tier energy company that has embraced excellent crews and excellent delivery. It is a privilege to work with them on this fine event."
The intense competition and camaraderie of the National Gas Rodeo offer two-person and four-person teams from across the country an opportunity to showcase their teamwork, skills, and professionalism. Participation in the National Gas Rodeo plays an important role in developing a mindset of efficiency, proficiency, and safety when working in the natural gas field. The 2018 National Gas Rodeo will be September 13-15 at Heart-Amer Pop Warner Football Field in Independence, Missouri. Learn more and register at http://www.nationalgasrodeo.org.
The National Gas Rodeo is a program of MEA. The rodeo is made possible through the premier level support of CASE Construction, K.R. Swerdfeger, and Val-Tex.
About MEA:
MEA serves the people that deliver electricity and natural gas to homes and businesses. We were founded as a trade association over 110 years ago by distribution utilities whose vision was to improve safety and efficiency. Today, we fulfill the same purpose through education, leadership development, and industry connections. Energy delivery companies, contractors, and suppliers around the country benefit from our 55 summits, roundtables, and webinars, 400+ online technical courses, safety assessments, evaluator training, operator qualification compliance tools, and leadership courses for field personnel.