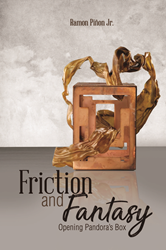 SAN DIEGO (PRWEB) May 26, 2018
From professor-author Ramon Piñon Jr comes this human reproduction textbook-turned-intriguing read suitable for lay readers. In Friction and Fantasy: Opening Pandora's Box, the author blends scientific and historical perspectives with literary commentaries, which offer a wealth of information not easily available to the general reader, in a stimulating and thought-provoking manner.
This book presents a historically informed way of trying to make sense of one of the most emblematic aspects of humanity. Beginning with the seemingly simple query of what is sex, it provides for the general reader a wide ranging exploration of the complexities and mysteries of the multidimensional sexual universe: sexual fantasies, why people have sex, the mythologies of sexual anatomy, love, sexual desire and arousal, orgasm in females and males, the taboo subject of solitary sex, the controversies regarding erotic preference and gender diversity, unusual sexual practices, sexual violence (rape, pedophilia and child sexual abuse), and the dilemmas of sexual discontent.
Human sexuality resists simple or facile evaluations and no generalization can do justice to the vast inventory of sexual feelings, practices, or behaviors. Human sexuality is not only a source of joy, wonderment, emotional release, and happiness, but also of frustration, revenge, intimidation, and deadly power. Coming to grips with one's sexuality is no easy task, because a person's attempts to understand himself or herself, to distinguish between reality and illusion, are mired in mythologies of the past, misinformation, moral and religious imperatives, lack of scientific knowledge, and wishful thinking.
This book is available online and can be purchased at http://www.bookventure.com, http://www.amazon.com and http://www.barnesandnoble.com.
About the Author
Ramon Piñon Jr was born in El Paso, Texas in 1939. He received his Ph.D. from Brown University in 1966. He now holds the title of Emeritus Professor, Division of Biology, University of California, San Diego (UCSD). He has taught a wide variety of classes spanning a broad area of modern biology. He developed the first Human Reproduction course in the UCSD Biology department in 1973 and taught it for many years. Out of that experience came his textbook Biology of Human Reproduction published by University Science Books in 2002. His transformation of his textbook into a form more suitable for the lay reader has led to his latest books, Friction and Fantasy: Opening Pandora's Box, a historical and scientific exploration of human sexuality, and a companion volume, How We Become Female and Male: Our Extraordinary and Perilous Journey, which focuses on the biological aspects of our reproductive system.